These two DC characters are returning for 'Justice League' — and we've got some theories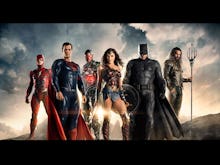 While the three films in the DC Extended Universe released to date — Man of Steel, Batman v Superman: Dawn of Justice and Suicide Squad — remain polarizing among critics and fans alike, there is little doubt that they accomplished Warner Bros.' goal of launching a financially successful, shared cinematic universe. With the universe established, we look to 2017, which will see the release of both Wonder Woman and the highly anticipated Justice League team-up. 
From the film's special teaser from San Diego Comic-Con, we have known for quite some time who the main cast of characters would be in Justice League. Ben Affleck, Gal Gadot and Henry Caville will return as Batman, Wonder Woman and Superman, respectively, while Ezra Miller, Jason Momoa and Ray Fisher will expand on their cameos as Flash, Aquaman and Cyborg. 
Warner Bros. has now released a cast list as part of an official press kit that reveals a few more characters who will be joining the film. According to Collider, the cast list includes two returning faces: Jesse Eisenberg and Connie Nelson. 
Eisenberg previously appeared as Lex Luthor, the main antagonist in Batman v Superman, while Nelson will be making her first DC appearance as Queen Hippolyta in Wonder Woman, before reprising the role in Justice League. In addition to the heroes above, confirmed cast members include Willem Dafoe, Jeremy Irons as Alfred, Diane Lane as Martha Kent and J.K. Simmons as Commissioner Gordon.
Further, Amber Heard will be appearing as Mera and, though not in the press kit, it has been reported that Game of Thrones star Ciaran Hinds will play Steppenwolf, Darkseid's lieutenant and film's big bad. 
Lex Luthor in Justice League
According to Comic Book, Jesse Eisenberg will have a featured role in the film. The big question, though, is what type of impact will Luthor have. Last we saw Lex Luthor, he was imprisoned at the end of Batman v Superman for his litany of villainous actions — namely blowing up a senate hearing and creating Doomsday.
While this was further explored in Batman v Superman's Ultimate Edition, Luthor's comments to Batman at the end of the film suggest that he has foreseen an impending attack on Earth. So, while a villain in Batman v Superman, what role will he have in Justice League?
Lex Luthor has never really been a psychotic villain who just does things to be bad, like the Joker. Rather, Luthor's motivations are from a misplaced desire to save the world — usually because he perceives Superman to be a threat to humanity.
With the world likely at stake in Justice League, it is quite possible that Luthor could take on a more heroic role. No, not as a hero, but rather as someone whose interests happen to align with the Justice League. 
Queen Hippolyta in Justice League 
Mother of Diane Prince, and Queen of the Amazons, Hippolyta will have a featured role in Wonder Woman. What type of impact she has in DC's next film, Justice League, is uncertain. 
Since the Amazons have been around for centuries, it is possible that Queen Hippolyta could be a source of information regarding any prior contact Earth may have had with Apokolips — Steppenwolf's home. 
Synopsis and trailer
The official synopsis for Justice League (via Collider) reads as follows: 
Fueled by his restored faith in humanity and inspired by Superman's selfless act, Bruce Wayne enlists the help of his newfound ally, Diana Prince, to face an even greater enemy. Together, Batman and Wonder Woman work quickly to find and recruit a team of metahumans to stand against this newly awakened threat. But despite the formation of this unprecedented league of heroes — Batman, Wonder Woman, Aquaman, Cyborg and The Flash — it may already be too late to save the planet from an assault of catastrophic proportions.
Mic has ongoing coverage of Justice League. Please follow out main Justice League hub here.