How to pick up snow and throw snowballs in 'GTA 5 Online'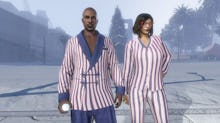 It's officially snowball season in Grand Theft Auto 5 Online. Here's everything you need to know about picking up snow and throwing snowballs during the game's annual Festive Surprise event.
How to pick up snowballs and throw a snowball in GTA 5 Online
Snow is currently falling in GTA 5 Online, but it won't last forever. Make sure to take advantage of the current weather in Los Santas before all this snow melts away. Rockstar Games notes that it will last at least through the evening of Dec. 26, but after that, it may disappear.
To pick up snow just press left on the d-pad while standing outside unarmed. You can store up to nine snowballs in your inventory, which is enough for a good drive-by snowballing. Then just select snowballs off your weapons wheel to start throwing them.
Don't forget that snowballs can kill in GTA 5 Online. They're good for a laugh as you hit a friend in the head with an ice ball, but throw too many and you have an in-game murder on your hands.
More GTA 5 and GTA Online news, tips and tricks
Snowball season in GTA 5 Online won't last forever, but that doesn't mean you have to stop playing. Check out Mic's guide on how to make money fast in GTA Online, all the best cheat codes for GTA 5 and how to make money with the Import/Export update.