Maine's Marijuana Law: Important dates and what to know before smoking weed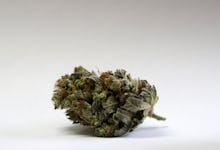 When it comes to marijuana legislation, New England may be witnessing something of a domino effect. As Vermont and Rhode Island are considering reviewing marijuana laws next year, Maine approved Question 1 — which will legalize, tax and regulate weed for adults 21 and older — on Nov. 8. The Pine Tree State now joins Massachusetts in legalizing marijuana consumption in the northeast.  
Approved by a slim margin of just 4,000 votes, Question 1 may take effect by the end of January, once Maine Secretary of State Matthew Dunlap certifies the results, according to the Portland Press Herald.  The bill faced strong opposition, though a recount ordered by its opponents in November was dropped after a review of around 20% of ballots did not show a significant shift in the outcome. 
If approved this week, the results will be sent to Gov. Paul LePage, who will have 10 days to issue a proclamation of the results. Once Gov. LePage green lights Question 1, the legislation will become law within 30 days.  
What is legal?
If Question 1's implementation meets no delays, adults 21 and older will be allowed to possess 2.5 ounces of weed. Adults will be allowed to grow up to six mature plants, 12 immature plants, and an unlimited number of seedlings. 
Question 1 grants state policymakers to create a regulatory system to license, test and track the cultivation and retail sale of cannabis. Maine will have nine months to complete this task, but it can take up to a year before the transfer and sale of pot is legal. 
What is illegal? 
Maine will not allow marijuana consumption in public spaces. Although the law also allows the creation of cannabis clubs, municipalities have the right to ban them, and a handful of them are considering these restrictions. Several cities like Portland, Bangor and Westbrook have enacted moratoriums. 
Despite the legislative victory for marijuana advocates in the state, Question 1 still faces a hazy future. Before Nov. 8, Gov. LePage said he'd seek guidance from the Trump administration about the handling of marijuana legislation, given that marijuana consumption is still illegal under federal law. Though Donald Trump said marijuana legislation is a matter states should take care of, the appointment of Sen. Jeff Sessions (R-Ala.) as attorney general does not bode well for statewide marijuana laws. 
State legislators will have to resolve pending issues. Though the state does not allow residents to operate a vehicle under the influence of alcohol or pot, Maine legislators still need to approve a test to measure impairment from marijuana. Also, Republican Sen. Mike Thibodeau wants to make sure that marijuana-based products are not marketed or appealing to children, which is likely to receive strong support from his counterparts.