Best Xbox One Games 2016: The exclusives, shooters and indie games you need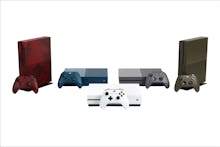 If you're looking for the best Xbox One games, there are two main categories to consider: exclusives and everything else. There are plenty of great games from 2016 and earlier you can play on the PS4, too, but Microsoft's done a pretty great job of snagging exclusive titles.
Whether you got a new console or just want to fill out your gaming library, let's look at 2016's best Xbox One exclusives. Don't worry, we'll also cover some of the best cross-platform titles available on Microsoft's console.
Editor's note: Prices and product availability are subject to change throughout the holidays.
Best Xbox One Games 2016: Exclusives
Forza Horizon 3: $37.58
The Forza racing series has always prided itself on hot cars and sick courses. Forza Horizon 3 takes an exciting new approach, stripping away the regimented racing tracks to allows players to explore an open world and enjoy themselves in a more free-form fashion.
Gears of War 4: $29.99 download 
If you're an Xbox fanboy, you already know Gears of War. It's one of the largest, loudest Xbox-exclusive franchises in the industry. Third-person cover-based shooter meshes with bloody chainsaw-on-chainsaw combat as a scrappy group of human survivors fight past everything awful the planet Sera throws at them.
Gears of War 4 kicks off a new chapter in the Gears of War universe, taking place decades after the end of Gears of War 3 and the war against the Locust monsters that defined the original trilogy. The latest entry in the Gears of War saga introduces a new enemy and throws players back into the action with a new war to fight.
Quantum Break: $37.99
Quantum Break blurs the line between video game and live-action TV series in a new way. From the developers of Max Payne, it stars Sean Ashmore (X-Men) and Aidan Gillen (Game of Thrones) as two men unstuck from time and fighting to repair the damage to the time stream coming unglued all around them. Jumping between the two formats may seem odd, but it works shockingly well and manages to tell a compelling, unified story.
Best Xbox One Games 2016: First-person shooters
Titanfall 2: $39.89
Though Titanfall 1 was an Xbox-360 exclusive, Titanfall 2 is available for both PS4 and Xbox One. The series mixes extremely fast and agile human pilots with mechs called titans. Perform well on foot as a pilot and you'll earn enough points to drop in a titan mech from orbit so you can board your mechanical partner and wreak havoc.
Titanfall 1 was also strictly an online affair with no single-player campaign. Titanfall 2 has a story, however, and it's fantastic. Combine the new campaign with some of the most interesting FPS multiplayer on the market and you've got yourself a winner.
Overwatch is a team-and-objective-based shooter game that offers heroes along the lines of what you'd find in MOBA games like League of Legends. Each hero is defined by unique attacks and abilities, and teams have to learn to synergize the different characters into effective fighting units that can take and hold territory on the map.
If you're not into team play, then Overwatch may not have much to offer. But if you like competitive, team-based FPS games, you have to at least give Overwatch a try and see if it stands up to the hype.
Doom is the ultimate "oldie but goodie," the return of one of the most venerable FPS franchises in the world in a brand-new skin that looks as good as anything you'd expect out of triple-A gaming, but perfectly captures the spirit of a game that decades ago defined the first-person shooter.
Doom is not for younger players or the weak of heart, but if you're a shooter fan from back in the day who wants their skills challenged, buy Doom and crank up the difficulty.
Best Xbox One Games 2016: Action/adventure
Dark Souls III: $39.99
The Dark Souls series comprises some of the most brutal action gameplay players have ever seen. Dark Souls III ups the ante with even greater challenges, which means players have to plan carefully and execute flawlessly as they battle minions and bosses in a dark, gothic world overrun by the undead. With save points few and far between in Dark Souls III, every mistake could lead you back to the beginning. Learn well and learn quickly.
Dishonored 2: $39.99
Dishonored 2 may be played from a first-person perspective, but it's no FPS. Instead, you'll find an action game that allows players to choose between stealth and violence to fulfill a mission. Sometimes cleverness is a better weapon than guns or swords.
Dishonored 2 takes place in a Steampunk world and tells the story of a kingdom turned on its head by family rivalry and dark magic. The Dishonored universe has been roundly praised for its imaginative design. It's the kind of game you can really sink into — just make sure the guards don't find you.
Best Xbox One Games 2016: Indie
Hyper Light Drifter: $19.99
Hyper Light Drifter is a 2D action RPG that draws inspiration from Diablo and The Legend of Zelda. Some critics were upset at Hyper Light Drifter's storytelling, which lacks dialogue, but the art and gameplay were roundly praised.
Inside is the follow-up to Limbo. It offers a similarly dark and horrific platformer experience that impresses with its aesthetics and challenges with its difficulty. Inside will haunt you in more ways than one.
Superhot may look like a shooter game, but it's really a puzzle game at heart. The game's big twist is that time only moves when you move, turning regular gunfights into complex challenges. 
Even players who are terrible at first-person shooters might still excel at Superhot if they're good at solving puzzles. Just make like you're Neo from The Matrix and you should get along fine.
Best Xbox One Games 2016: Open-world
Grand Theft Auto V: $29.99
Grand Theft Auto 5 is not a new release by any means, but three years after its arrival this game is still going strong on sales charts. GTA Online is also just as relevant today as when the game first launched, also three years ago. No one does open-world games as well as Rockstar.
Watch Dogs 2: $39.85
The first Watch Dogs, a game about a cybercriminal seeking revenge against the people who wronged him, was terrible. Watch Dogs 2, also a game about a cybercriminal seeking revenge against the people who wronged him, is awesome. All it took was a change in protagonist, a switch from Chicago to San Francisco and a bit of self-reflection for Watch Dogs 2 to become a hit.
The best of 2016 in video games
Still looking for the best games of the year? Check out Mic's latest lists, including the most underrated games, best shooters, best indie games and the best mobile games for iOS and Android.