'Happy New Year, Charlie Brown': When and where to watch online and on TV on Dec. 26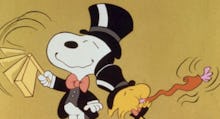 We're officially counting down to 2017. Before the ball drops and we sing "Auld Lang Syne," there is another tradition that is must for many leading up to New Years Day — watching Happy New Year, Charlie Brown. 
As you wrap the holidays and put the final touches on your resolutions you can watch the film from cartoonist Charles M. Schulz. In Happy New Year, Charlie Brown, which was first released in 1986, the Peanuts gang decides to ring in the new year at Marcie and Peppermint Patty's big New Year's Eve party. Of course, Charlie Brown has his own plans. He wants to spend the evening at home reading Tolstoy's War and Peace. However, he ends up at the party — along with his book — after gathering the courage to ask invite the little red-haired girl to the festivities. 
Happy New Year Charlie Brown is available to watch on ABC Monday, Dec. 26, at 8 p.m Eastern. The hour-long special will also include She's a Good Skate, Charlie Brown. For those that can't watch it on their TV, the holiday special can also be viewed at that time on the ABC website. Cable provider login is required in order to watch ABC live online.