'Pokémon Go' Android Wear App Release Date: Everything we know so far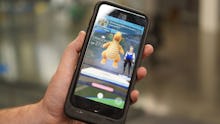 Is Pokémon Go coming to Android Wear? An Apple Watch version of the app was recently released, but we still don't know if the game will ever be available on Google's competing smartwatch operating system.
Pokémon Go Android Wear app release date: Still unconfirmed
Niantic announced a version of Pokémon Go for the Apple Watch back in Sept. 2016 at an Apple event. So it's no surprise that the company didn't mention an Android Wear version during the same presentation.
Three months later we still don't know if Pokémon Go will come to Android Wear. Now that the Apple Watch app is here, it's possible we could hear something official from Niantic, but there's no way to know for sure.
Pokémon Go Android Wear app release date: Reason for hope
Niantic hasn't made any official announcements, but there's still reason to believe an Android Wear app is on the way. 
Shortly after the Apple Watch version was announced, evidence of an Android Wear version began to surface. Pokémon GO Hub dug into the code for the game's Android mobile app and found some interesting new details.
The code explicitly mentioned Android Wear, suggesting the smartwatch app could communicate with your smartphone over Bluetooth. It also implied that the feature was ready to go — and this was back in September.
So it's definitely possible that an Android Wear version of Pokémon Go could be on the way. But it's also possible that Niantic is no longer interested in bringing the app to Google's smartwatch platform.
More Pokémon Go news, tips and tricks
If you're clamoring for an Android Wear Watch port of Pokémon Go anyway, you may also want to check out Mic's other Pokémon Go content. Here are guides on how to catch Gen 2 baby Pokémon, the 98 Gen 2 Pokémon that have yet to be added to the game, how to catch Pikachu and his adorable new Christmas hat, our analysis of post-update Chansey and Rhydon, everything you need to know about finding the long-awaited Ditto, how to create new PokéStops, how to maximize your chances of catching Pokémon and how PokéStops distribute Pokémon eggs.