Android Nougat Easter Egg: The coolest hidden feature you need to know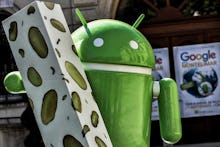 Android smartphone owners who have updated their devices to Android Nougat can utilize a handful of new features that come with the new operating system, from new diverse emojis to a multiwindow view. But Android Nougat also has a secret feature — an Easter egg — that Android hides in each OS.
Past Easter eggs include demons and jelly beans
Google's first discovered Easter egg was found in Android 2.3 Gingerbread, reports Android Pit, and featured a demonic gingerbread man. For Android Honeycomb, Ice Cream Sandwich, Jelly Bean and KitKat, Google hid a neon bee, pixelated cat, smiling red jelly bean and the word "Android" in the KIT KAT logo, respectively. Android Lollipop featured a game similar to Flappy Bird and Android Marshmallow had yet another Flappy Bird-inspired minigame, this time with marshmallows on the end of the lollipop obstacles.
A Neko Atsume-style game is hidden in Android Nougat
Neko Atsume fans will get a kick out of Google's Android Nougat Easter egg, which allows users to collect a variety of cats similar to the cult favorite mobile game. While it's not so much a game in the traditional sense — since there's nothing to win or lose — users can put out food, like Neko Atsume, and have cats visit at their leisure.
How to find the game on your updated device
How-To Geek reports the Easter egg game is hidden in the device's settings menu. To access, users need go to the settings menu, scroll down to the bottom and tap on "About device." Here, there will be a "7.0," which will fade away and be replaced with the letter "N" (for Nougat) after tapping on the number a few times. Tapping the N and then long-pressing it should bring forth a little cat emoji and activate the secret feline feature.
Playing the "game" entails putting out food
Opening the quick-settings menu and selecting the edit button will reveal an "empty dish" icon. By placing this icon in the notifications bar, the user has the option to tap it and choose food — chicken, fish, bits and treats — to put out. The user will then be notified if a cat heads over to enjoy a treat.