'Pretty Little Liars' star Lucy Hale has the best clapback after nude photo leak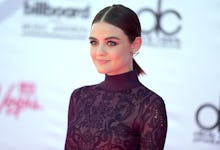 Unfortunately, we live in a world where hacking has become the norm, and reportedly the latest victim of such a crime is Pretty Little Liars actress Lucy Hale. Two nude photos of the 27-year-old were leaked to a website, and she's not having it. Hale has taken to Twitter to deliver a powerful message on not only the violation against her, but on women in general.
Twitter was impressed with Hale's clapback. Check out some of the responses:
On Wednesday, Hale's lawyer, Martin Singer, sent a letter to the site asking that the photos be removed. TMZ  reports that Singer sent Celeb Jihad, the site that put up the photos, a threatening letter. Clearly the site got the message because on Thursday Singer told the New York Daily News that the photos were taken off the website.