A Very Hairy Christmas Carol: Watch 'Star Wars' Chewbacca sing "Silent Night"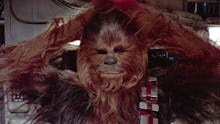 If there is one thing people are thinking more about right now than Star Wars and Rogue One, it is likely Christmas, which is just days away. But there is a way that you can enjoy both Christmas and Star Wars lore simultaneously, in the form of Chewbacca singing the popular Christmas carol, 'Silent Night.' 
How It Should Have Ended, the guys that brought us all those funny animated renderings of popular films, have put together a rather touching (and hilarious) video of Chewbacca singing (er, roaring) 'Silent Night.' The clip was created using shots of Chewbacca from the original trilogy of Star Wars films, and it works quite well. Check it out below:
While Chewbacca may not have the vocals completely down, the lovable fur ball certainly gets you in the holiday spirit. What the video proves, though, is it doesn't matter what you sound like: anybody can go caroling. 
So, if you were originally self-conscious because of your singing voice and didn't want to put yourself out there, watch the video, and then, just maybe, your confidence in your own abilities will be restored. If not, you could just go house to house playing Chewbacca on your tablet. 
Happy Holidays!
Mic has ongoing coverage of Star Wars. Please follow our main Star Wars hub here.