Here's why Mariah Carey is gifting us with three new videos from her Christmas albums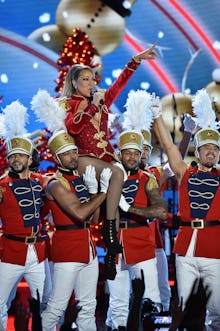 There is no Christmas playlist without Mariah Carey's "All I Want for Christmas," the one song everyone can't help but sing aloud to. Carey, who released her popular Merry Christmas album more than 20 years ago and a second festive album Merry Christmas II You in 2010, is not done delivering musical holiday gifts. 
Thursday, Carey began releasing three new music videos from her Christmas albums in celebration of her new website MariahsWorld.com. The site will feature "exclusive Mariah-themed content," Buzzfeed reports. Full clips of each of her new holiday videos can only be accessed on her new site.
In the first of the three videos, Carey throws a big block party on Santa Claus Lane. As she sings "Here Comes Santa Claus" from her second Christmas album, she sparkles in a red dress and we see Santa turn up right along with her neighbors in the background. Her son Moroccan Scott Cannon and daughter Monroe Cannon make cameos as her little Christmas elves. 
Friday, Carey gifted us again with a music video for "Silent Night," a record from her first Christmas album. In the visuals, she glows in a white dress while a choir assists her with background vocals. She also provided an inspirational message with it. "It's a time to gather our thoughts, center our focus, our gratitude and ponder the possibilities of the new year," text under the video on the site reads.
According to snippets shown in a preview video Thursday, the chanteuse's last gift will be a visual for "Joy to the World," an upbeat choir-backed jam featured on her first Christmas album. 
And while we're on the topic, if you can't get enough of all Carey's Christmas-themed videos, check out this hilarious Christmas carpool ride with The Late Late Show's James Corden. It features Carey, Adele, Lady Gaga, Gwen Stefani and more singing along to the classic tune "All I Want for Christmas."