Tiger Woods' "Mac Daddy" Santa Claus photo is the best and worst thing you'll see all day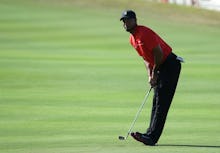 When Tiger Woods isn't busy winning golfing championships or teeing off with president-elect Donald Trump, he's confusing the internet with "Mac Daddy Santa." 
According to the golfing pro's revealing tweet, Mac Daddy Santa's annual appearance is an "Xmas tradition" that his kids simply can't get enough of. The image features a half-naked Woods, sporting a white goatee — rather than the signature, unkempt fire hazard sported by Santa OG — and accessorized with a black hat, dark shades and a watch, one that Mac Daddy Santa presumably treated himself to.
Needless to say, the internet is having a very merry field day with Woods' alter ego and it's nothing short of spectacular.