People are obsessed with this black New Orleans Santa who apparently never ages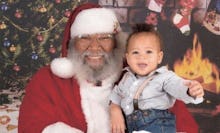 If you're not quite in the holiday spirit yet, this heartwarming story might just take you from "bah-humbug" to "Santa Claus Is Coming to Town."
On Wednesday, Twitter user @504reminisce tweeted a photo of a black Santa Claus in New Orleans with the caption, "If you're from New Orleans 9/10 you got a pic with this Santa." The adorable child in @504reminisce's original tweet is Akhil Ricco-Thompson, who is now 3 years old. (The picture was taken in 2013.) His mother told Mic that "he totally loves taking photos with 7th Ward Santa."
Several other New Orleans residents quickly started posting their own oh-so-adorable pictures with Santa.
Here he is 23 years ago.
And here he is again — this holiday season.
Several users on Twitter pointed out that Parker may actually be the real Santa, since he seems to never age. 
Santa's real name is Fred Parker, who has been dressing up as Mr. Claus for more than 40 years in New Orleans' seventh ward. For several years, he has taken photos with children at local elementary schools as well as at Dennis Photofinish Ltd, the New Orleans Times-Picayune reported in 2009. Early on in his career as the Seventh Ward Santa, he grew out his hair and a beard, after a child pulled his fake hair off at a church Christmas party.
"Every time I see the joy on a child's face it's worth it," Parker told WDSU in 2015. "As long as I'm healthy I'll be here for the children."
The joy that Seventh Ward Santa brings welcome this holiday season. Earlier in December, racists everywhere lost their minds when the Mall of America hired its first black Santa Claus. Thankfully, the social media obsession with Parker is enough to drown out those Scrooges and give us a smile as we wrap up 2016.
Editor's note: If you had your photo taken with this Santa, send it to Mic with your name and year the photo was taken and we'll add it — or let us know if you share it on social media. Email us at tips@mic.com.
Dec. 25, 2016, 10:13 a.m.: This post has been updated.