Trump Inauguration: Rockettes express "embarrassment" after learning they're performing in January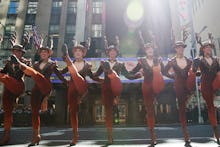 Dec. 23, 2016, 2:06 p.m.: Madison Square Garden, the company that owns the Rockettes, has issued a statement to Broadway World clarifying its stance on Rockettes declining to perform during Trump's inauguration:
"The Radio City Rockettes are proud to participate in the 58th Presidential Inaugural. For a Rockette to be considered for an event, they must voluntarily sign up and are never told they have to perform at a particular event, including the inaugural. It is always their choice. In fact, for the coming inauguration, we had more Rockettes request to participate than we have slots available. We eagerly await the inaugural celebrations."
Mic's original story appears below:
For Donald Trump's inauguration team, it seems that finding willing performers has been more difficult than trying to find a vegan at a rib restaurant — or a reason why his administration lost the popular vote.
According to reports published by The Wrap, the team has been offering "yuge" bounties for any talent booker who finds a way to secure A-list singers for the event. On Thursday, team Trump notched a victory — the Mormon Tabernacle Choir and the Rockettes, the famous leg-kicking main event in Radio City Music Hall's annual Christmas Spectacular, are set to perform at the inauguration. 
However, the announcement hasn't come without its share of controversy, as it seems this decision was made without the consent of the Rockettes themselves. At least one Rockette has taken to Instagram to share her disappointment, but the organization has been actively looking to stamp out resistance in the ranks. According to Billboard, the union representing the Rockettes — the American Guild of Variety Artists — issued all full-time Rockettes a stern ultimatum: Dance for a known pussy-grabber or take risk having to hit Broadway's shining streets looking for a new gig.
"I usually don't use social media to make a political stand, but I feel overwhelmed with emotion," Rockette Phoebe Pearl wrote on her private Instagram, according to the New York Post. "Finding out that it has been decided for us that Rockettes will be performing at the presidential inauguration makes me feel embarrassed and disappointed."
She continued:
The women I work with are intelligent and are full of love and the decision of performing for a man that stands for everything we're against is appalling. I am speaking for just myself but please know that after we found out this news, we have been performing with tears in our eyes and heavy hearts. #notmypresident
An unnamed individual who worked for the Rockettes told The Wrap: "Forcing dozens of women to go and perform for this man is without a question going to be problematic."
Consider Trump's past sexual assault scandals, the irony of forcing a group of women to perform against their will for Trump's inauguration has not gone unnoticed on social media. A post from Twitter user @duarteamanda asking individuals to contact the Rockettes organization and express their displeasure has been making the rounds, earning retweets from Patton Oswald and other Twitter personalities with large followings.
Comedian Rachel Dratch called for the Rockettes to grow out their pubic hair so the kick line exposes "full 1970's-style bushes," in an odd but fitting protest against the Evangelical-favored candidate.
Unfortunately, it seems there aren't many options available to Rockettes who would prefer not to participate. According to an email sent from American Guild of Variety Artists and verified by Broadway World, a formal boycott will not be tolerated. 
The email reads:
"We have received an email from a Rockette expressing concern about getting 'involved in a dangerous political climate,' but I must remind you that you are all employees, and as a company, Mr. Dolan obviously wants the Rockettes to be represented at our country's presidential inauguration, as they were in 2001 & 2005," the email reads. "Any talk of boycotting this event is invalid, I'm afraid."
It continues: 
"Everyone is entitled to her own political beliefs, but there is no room for this in the workplace. If you are not full-time, you do not have to sign up to do this work. If you are full-time, you are obligated. Doing the best performance to reflect an American institution which has been here for over 90 years is your job. I hope this pulls into focus the bottom line on this work."
At least 12 of the 36 dancers in the Rockettes are full-time, according to The Wrap. Considering the fact that only about 1.4% of New York City people who identified their professions as "dancers" in 2015 are full-time, according to Broadway World, many Rockettes would likely not be able to simply take the sacking and readily find new work.
If the calls and protests manage to have an impact, the Rockettes will join a long line of celebrities who have publicly refused to perform at the inauguration, Celine Dion, Elton John and Andrea Bocelli among them.
Mic has reached out to the American Guild of Variety Artists, the Rockettes organization and several Rockettes for comment. We will update the story if we hear back.
Dec. 23, 2016, 3:30 p.m.: This story has been updated.