Nine Inch Nails' 'Not the Actual Events' is here: Where to download and stream the new EP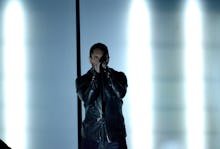 Three years ago, Nine Inch Nails dropped the Hesitation Marks, a record that Trent Reznor described as "sparse and minimal." On Friday Dec. 23, the band — joined by Reznor's frequent collaborator Atticus Ross in his first time as an official member of Nine Inch Nails — has released a new EP, Not the Actual Events. 
The EP consists of five songs, including "Burning Bright (Field on Fire)," which was released a day ahead of the album. 
You can download it at iTunes or stream on Apple Music, Spotify, or Tidal.
Last December, Reznor had promised new Nine Inch Nails material in 2016 and decided to deliver with the EP just days before the year's end.
In addition to this being the first Nine Inch Nails record with Ross as an official bandmate, the EP also features Dave Grohl drumming on "The Idea of You," and Jane's Addiction's Dave Navarro on "Burning Bright." Also, Mariqueen Maandig, Reznor's wife and How to Destory Angels bandmate, makes an appearance on the song "She's Gone Away." 
Listen to the EP via Spotify below.
Outside the record, Reznor and Ross collaborated on the score for the film Patriots Day. They had won an Oscar in 2011 for scoring David Fincher's The Social Network.