Obamacare 2017: Here's what will happen next year if you sign up for health care today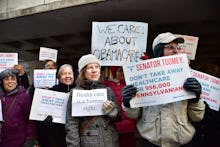 Federal officials reported last week that a record 6.4 million Americans have selected health insurance policies starting Jan. 1 through the Affordable Care Act — up 400,000 from last year. The number of new customers, however, is down: Just 2.1 million new ACA customers signed up for coverage, down from 2.4 million a year ago.
One possible reason for the drop in interest? The uncertainty of the health-care program under President-elect Donald Trump. 
Current Health Department Secretary Sylvia Burwell noted that more than 30,000 Americans have called the HealthCare.gov help line to ask if it's worth signing up for a plan in advance of Trump's inauguration, given his vocalized desire — along with a Republican-controlled Congress — to bring an immediate end to the program.
The answer is yes. Though the future of the ACA remains unclear, Americans' coverage will remain safe in 2017. "The coverage people sign up for today is a contract for 2017," Burwell told CNBC.
Here's what to expect if you sign up for health insurance through the ACA in 2017.
ACA coverage in 2017
While the deadline for ACA coverage that begins Jan. 1 passed Dec. 19 — an extension of the original Dec. 15 deadline — Americans can continue to enroll for coverage through Jan. 31. 
Coverage purchased before the 15th of each month, Obamacare Facts notes, will begin the 1st of the following month, meaning those who purchase a policy by Jan. 15 can expect their coverage to begin Feb. 1. Those who sign up closer to the Jan. 31 cutoff will have to wait until March 1 for their policy to kick in.
Once the 2017 coverage period begins, Americans shouldn't expect much — if anything — to change, despite Trump's presidency.
Though ACA coverage is offered through the government, customers are entering into a contract with the private insurance company, whose rates have already been set for the year.
In a post for Forbes, Stride Health CEO Noah Lang explained:
When you sign up for health insurance — even through the federal or a state-run exchange — you actually sign a contract with a private insurance company. The plans themselves are not administered by government entities. Your insurer is bound to that agreement, so your health coverage isn't going anywhere in 2017. 
It's also unlikely any impending changes to the ACA passed by Congress will take effect in 2017. In January, Republicans passed a bill — which was ultimately vetoed by President Barack Obama — stipulating the ACA's tax credits and Medicaid expansion would expire at the end of 2017, giving Congress almost two years to put a new health-care plan in place. It's expected any future bills would likely take a similar approach.
"We've heard from the president-elect that he doesn't want to disrupt coverage in that way," Burwell said in an interview MSNBC's Chuck Todd, the Washington Examiner reported. "And we've heard from the Hill, as well, that they don't want disruption of coverage in '17."
The ACA in 2018 and beyond
Beyond 2017, however, the outlook for ACA-insured Americans is far less clear.
Republicans remain determined to immediately repeal or significantly dismantle the ACA. Senate Majority Leader Mitch McConnell, CNN notes, said taking action against the legislation was the "first item" on his agenda in 2017.
Though any Congressional legislation undoing the ACA will likely take a few years to take effect, consumers may suffer their first blow from insurance providers. According to CNN Money, insurers must submit their initial 2018 rates to the states by May, meaning there won't be time to wait and see what replacement plan Republicans can put in place.
"You have an unacceptable situation," Robert Laszewski, who runs Health Policy and Strategy Associates, told CNN Money. "Carriers will go on the defensive. They will either pull out or dramatically raise rates again."
A strong replacement for the ACA is key. A study released by the Urban Institute revealed that if a partial repeal of the ACA — modeled on the vetoed January 2016 bill — is passed without a replacement, nearly 30 million Americans will become uninsured, including 4.4 million children.
However, though various ACA replacements have been proposed, including House Speaker Paul Ryan's "A Better Way" plan, it's unclear what form any new health-care plan will take. Regardless of what happens, the transition will likely not be a smooth one.
"It took Democrats decades to get a health reform plan passed and Republicans are now on the clock with much less time to figure this all out," Larry Levitt, senior vice president at the Kaiser Family Foundation, told CNN. "Reforming health care inevitably involves winners and losers and disruption, and that's why it's controversial. If it were easy, it would have already happened."