Trump Inauguration: Thousands urge the Mormon Tabernacle Choir to boycott Trump's event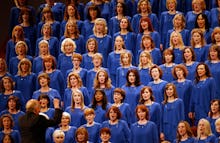 On Thursday, Donald Trump's beleaguered inauguration committee announced some good news. It had found two more acts to add to their January ceremony: New York City's Rockettes and the Mormon Tabernacle Choir.
It would be difficult to find two groups with more drastically different artistic values. One is best known for high-kicking across New York's glitziest stages; the other, for being goodwill ambassadors for the Church of Jesus Christ of Latter-day Saints. Yet, they do represent two sides of our future commander in chief's values — his love of celebrity and glamour and his questionable interpretations of Christian piety. 
However, certain members and friends of the Mormon Tabernacle Choir have taken extreme issue with the group's decision to perform the inauguration. A Change.org petition has surfaced demanding that the choir pull out of the event, arguing that the president elect's "sexist, racist, misogynistic and xenophobic behavior ... does not align with the principles and teachings of the Church of Jesus Christ of Latter-day Saints." 
Up for less than 24 hours, the petition has already received over 6,000 signatures.
"We also believe that an official LDS organization performing at a presidential inauguration gives the perception that the LDS church and its diverse 15+ million members worldwide support an incoming president's agenda, values and behaviors," the petition adds, before clarifying that performing at other government events, like the Fourth of July, don't present the same conflict of interest.
It continues:
The church's participation will harm this spectacularly talented and beloved choir's image, misrepresent the diversity of Mormons worldwide and sends the wrong message to LDS children as they will perceive the church's participation as endorsement of a president whose words and actions do not align with our values.
Michael A. Jones, the North American director of Change.org, remarked on the remarkable swell of support in an official statement sent to Mic.
Randall Thacker's petition calling on the Mormon Tabernacle Choir to withdraw from performing at President-elect Donald Trump's inauguration is one of the most popular petitions we've had in the last 24 hours — in fact, the most popular petition in terms of new signatures coming in focused on the inauguration. We're also seeing a unique thing happening in the comments — LDS church members or those with Mormon family members speaking out about why they're signing the petition.
Brady Ahlstrom from Brookfield, Illinois, one of these commenters reportedly belonging to the LDS church, explained his stance, writing:
As an active LDS member in the Chicago area I feel this will strengthen negative misconceptions about our faith. It will be viewed as an endorsement. Please don't perform.
Another commenter, Michael Lennen of Topeka, Kansas, offers:
Trump's conduct personally and his policies generally are antithetical to basic values and teachings of Christianity broadly and of Mormonism specifically.
For the Mormon Tabernacle Choir, though, it seems this performance is just business as usual, with the Choir's Facebook page noting that the Choir has previously performed at the inaugurations ceremonies for "Lyndon B. Johnson, Richard Nixon, Ronald Reagan, George H. W. Bush, and George W. Bush."
The post's current top comment on the announcement, however, pushes back against this seeming normalization: "What a disgrace for such a prestigious group to sing at the inauguration of a man who systematically abused women," the comment reads. "God is not happy!"
A similar petition has circulated regarding the Rockettes' performance. It urges James Dolan, founder and executive chairman of the Madison Square Garden Company, which produces the Radio City Christmas Spectacular, to "not force the lovely Rockettes to use their bodies against their will for [Trump]." 
On Thursday, Madison Square Garden issued a statement saying that no individual Rockette will be forced to perform. Rather, "they must voluntarily sign up and are never told they have to perform at a particular event, including the inaugural."
The unrest surrounding these two acts adds to a long list of artists who have already outright refused to play Trump's inaugural event, including Celine Dion, Andrea Bocelli and Elton John.
Mic has reached out to the petition's author and the Church of Latter-day Saints and will update if we hear back.
Dec. 23, 2016, 4:11 p.m.: This story has been updated.