New 'Batman v Superman' special-effects video reveals incredible behind-the-scenes work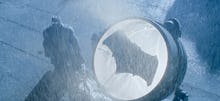 Whether or not you fall into the camp that loved Batman v Superman: Dawn of Justice, there is no shortage of stunning visuals to appreciate in the flick. Leading up to the release of the highly anticipated film, very few likely had reason to question the quality of Batman v Superman's visual effects. After all, while he may not have been the perfect candidate to launch the DC Extended Universe, Zack Snyder is a director who definitely prioritizes the look of his films (just see 300 or Watchmen). 
Superhero films, in particular, undergo a lot of work post-production. There are plenty of scenes in Doctor Strange, Suicide Squad and Captain America: Civil War that likely included nothing but the actors and a green screen. The real magic happens when the VFX team gets to work. 
As for Batman v Superman, Collider reported Friday that Scaline Effects released a reel showing the film's extensive visual-effects work. You can check out the video below: 
As reported by Collider, the video was likely produced in an effort to secure a Best Visual Effects nod at the Academy Awards. Unfortunately for Warner Bros., Batman v Superman was recently left off the shortlist of films vying for nominations in that category. 
Still, Oscar nomination or not, the video certainly shows the work that went into making Batman v Superman. Of course, it could be argued one of the film's biggest issues was its over-reliance on gratuitous computer-generated imagery. Indeed, the film may have been more lively with more, well, live human shots. 
Justice League, also directed by Snyder, will likely have its share of extensive visual-effects work as well. After the film wrapped shooting in October in the U.K., Snyder tweeted a video showing a whole lot of green:
Mic has ongoing coverage of Batman and Superman.