'Grey's Anatomy' fans are still hoping for an Alex and Meredith relationship in season 13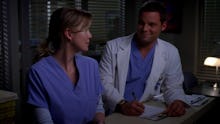 Will they or won't they? While Grey's Anatomy fans may have hoped for Meredith Grey and Alex Karev to date each other for some time, there's a hint it may finally be happening.
The midseason finale
In the season 13 midseason finale, which aired Nov. 17, Meredith begged Alex not to take a plea deal because it would put him in jail for two years. "There were five of us, and now it's just you and I, and it can't be just me," she said. "Please don't."
Alex and Jo didn't get back together in this episode, but the emotion behind Meredith's plea carried extra meaning. Since Jo and Alex are no longer an item, Alex and Meredith had a chance to become closer as friends and maybe ... something more. They're already living together, after all. Leaving such a sincere voicemail would've been out of character if it hadn't meant too much. 
Shonda Rhimes isn't shooting it down
When TVLine writer Michael Ausiello asked series creator Shonda Rhimes why the couple hasn't gotten together before, Rhimes had an interesting response. "That's like asking me why haven't I had a certain kind of cheese," she said. "The answer is, 'Because I haven't had that kind of cheese.'"
Meredith and Nathan, who got together in the second-to-last episode of season 12, haven't being faring well as a couple, so might there be some hope?
Ausiello also asked Rhimes how Meredith's relationship with Nathan evolved, to which she cryptically said, "Meredith's journey is always interesting and complex. There are so many aspects to her as woman, a surgeon, a sister and a mother."
"Weddings do not define my characters," Rhimes said. "I thought we all learned that when Meredith nailed a Post-It note to her wall."
Fans' hope springs eternal
Meanwhile, fans are being vocal about their opinions about a Meredith and Alex hook-up on Twitter:
Grey's Anatomy will return to ABC on Jan. 19 at 8 p.m. Eastern.