4 reasons you should be watching 'A Rugrats Chanukah' episode on Hulu right now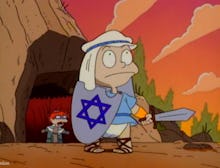 As entertaining, warm and uplifting as Christmas specials can be, they're also — more often than not — distinctly Christian, leaving some of us Jewish audiences craving something slightly more familiar. Cue "A Rugrats Chanukah," which is just about the greatest Hanukkah special around. It's for kids, sure, but like many cartoons, it's appeal is far-reaching. 
First airing on Nickelodeon in 1996, "A Rugrats Chanukah" follows our favorite toddlers as they learn the story behind the Jewish holiday, and also looks at a long-running feud between Tommy Pickles' Grandpa Boris and Shlomo, who grew up with Boris in Russia.
Now streaming on Hulu, below are some incentives to check out "A Rugrats Chanukah." 
It's an anomaly
As stated above, one of the huge incentives to watching "A Rugrats Chanukah" is that you're unlikely to find many Hanukkah specials, least of all, an animated one. Yes, Adam Sandler released his raunchy Eight Crazy Nights film, but there's nothing quite as wholesome as the Rugrats' take on the holiday which often gets overshadowed by Christmas. 
Also, the Rugrats had a Passover episode and a Kwanza one.  
It's informative  
The episode begins with Tommy's grandmother, Minka, narrating the history of Hanukkah. Tommy and his friends learn about Judah and the Maccabees, the oil that lasted eight nights, and, on a darker note, the Greek conquerers' attempts to erase Jewish customs. 
Because they're babies, they end up inserting themselves in the narrative and confuse Grandpa Boris's rival Shlomo for the Greek king who attempted to wipe the Jews out. They also each inhabit different characters from Grandma Minka's story, and call Shlomo "the meanie of Chanukah." 
Alongside the babies, viewers unfamiliar with Hanukkah customs are privy to simplistic definitions of Hanukkah symbols like latkes, menorahs and dreidels. 
Also, both of Tommy's maternal grandparents speak Yiddish, which may not seem like a big deal, but it's not a language you see much anymore — particularly on a kids TV show.
It doesn't revolve around boring, middle-aged adults
This could be said about every episode of Rugrats, but there's something interesting about the fact that the only two conflicts in the episode involve the toddlers, who are learning about the holiday for the first time, and Grandpa Boris and Shlomo, who argue over the staging of a Hanukkah play at the local recreational center. 
Tommy's parents and the other adults are background noise, and in an age when we really think about representation; the faces we see on TV, it feels exceptionally rare to have an episode of a TV show where the main sources of conflict have little do with your run-of-the-mill grownups.
It has this amazing line
At some point in the episode, when the babies are inhabiting the roles of real life figures, Tommy, as Judah the leader of the Maccabees, says, "A Macca-baby's gotta do what a Macca-baby's gotta do!"