Walmart pulls "Bulletproof: Black Lives Matter" T-shirts after police protest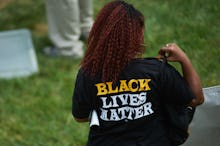 On Tuesday, the president of the national Fraternal Order of Police, the country's largest police organization, called for Walmart to stop all sales of specific T-shirts and sweatshirts on its website.
Specifically, the FOP wanted Walmart to stop selling T-shirts with the words "bulletproof" and "Black Lives Matter" on them, like the one seen below: 
Although Walmart sells many other T-shirts and tank tops and sweatshirts with "Black Lives Matter" written on them, as well as merchandise that reads "Blue Lives Matter" and even "All Lives Matter," the Fraternal Order of Police saw this "bulletproof" addition as one step too far.
In a letter to Wal-Mart on Tuesday, Fraternal Order of Police president Chuck Canterbury wrote the following: "I am writing on behalf of the membership of the Fraternal Order of Police to advice you that third-party sellers are using your website to sell offensive shirts and sweatshirts with the slogans 'Bulletproof' and 'Black Lives Matter.' I urge you to prohibit the use of the Wal-Mart name and website for the retail sale of these products." 
Although the design itself wasn't Wal-Mart's — Old Glory's, which sells through Walmart's marketplace — it was still concerning for Canterbury to see this specific design. 
"I am concerned that allowing these articles to be sold in this way will damage your company's good name amongst FOP members and other active and retired law enforcement officers," Canterbury wrote. "Commercializing our differences will not help our local police and communities to build greater trust and respect for one another."
Just hours after Canterbury's letter, Walmart pulled the shirts from its site, although designs that simply read "Black Lives Matter" are still up. 
"Like other online retailers, we have a marketplace with millions of items offered by third parties that includes Blue Lives Matter, Black Lives Matter and All Lives Matter merchandise," Walmart said in a statement. "After hearing concerns from customers, we are removing the specific item with the 'bulletproof' reference."
The connotations that come with the word "bulletproof" are the reason why the shirts were requested to be pulled, the FOP said.
"The bulletproof thing goes to the new assertiveness of some violence prone individuals to take action directly against police," FOP executive director James Pasco said to CNN. "We find it offensive for that reason." 
Old Glory has pulled the shirt down as well, though on its own volition, but it still sells BLM merchandise too. 
"It wasn't a big seller at all," Old Glory owner Glenn Morelli told CNN. "The Blue Lives Matter sells more than the Black Lives Matter or bulletproof shirts combined. We don't like to offend anybody."
The Fraternal Order of Police isn't just stopping at Walmart. According to the Washington Post, it has also called on Amazon to remove the design from its site as well.
But unlike Walmart, Amazon has not yet acted on the request, with the T-shirts and hoodies still being sold on its site with the "bulletproof" design. 
Mic has reached out to Amazon for further comment.