When will 'The Americans' season 5 premiere? Everything we know so far.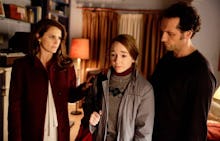 The Americans wrapped up its devastating fourth season in June and fans are hungry for more. The FX series was picked up for two more seasons, the fifth and sixth being its final. Given that 2017 is right around the corner, and that it has been half a year since we've seen a new episode of The Americans, it's about time FX announced the premiere date for the show's penultimate season.
The Americans season five release date
Although FX has yet to provide an exact release date for season five, The Americans creators Joe Weisberg and Joel Fields revealed in an exclusive interview with Entertainment Weekly that the drama will return in March 2017.
The Americans follows Elizabeth and Philip Jennings, a seemingly conventional American family living in the Washington, D.C., suburbs during the 1980s. The couple have two kids and run a travel agency, which we quickly learn is a front for their real profession. Elizabeth and Philip are Russian sleeper agents sent by the Soviet Union to the United States when they were younger. As a result, The Americans is simultaneously a domestic drama — one that explores the challenges of marriage and family life — and an intense spy thriller that sees the Jennings risk their lives and identities to uncover secrets on behalf of Mother Russia. 
What we know about season five so far
Weisberg and Fields didn't exactly reveal too many details from the upcoming season, but they did give EW a first-look photo of Elizabeth and Philip in one of their newest disguises. This time around they look to be playing a flight attendant and a pilot. 
 "Meet the Eckerts. Brad and Dee," Fields said.
The masterminds behind the series also opened up about the show's inevitable ending and how they plan to start winding things down given that season five is the second to last season.
"For us, the penultimate season is just another season of telling a story of this family and the people around them," Weisberg said. "It's not ramped up. It's not hyped up. It's not building the tension — but it will be a great season." 
They also talked about the possible return of fan favorite Martha, the continued consequences after Elizabeth and Philip revealed themselves to their daughter Paige and the casting of former 'Walking Dead' actress Laurie Holden.