Carrie Fisher Heart Attack: Passengers tweet about 'Star Wars' actress' medical emergency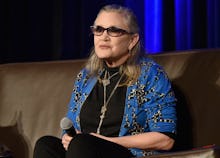 Star Wars actress Carrie Fisher has had a "massive heart attack," according to TMZ. Fisher, 60, reportedly went into cardiac arrest while on a flight from London to Los Angeles. 
The incident reportedly occurred when the plane was 15 minutes from landing. TMZ reported a source saying an EMT performed life-saving measures on Fisher, who's best known as Princess Leia in the Star Wars franchise. Los Angeles airport police confirmed to the Hollywood Reporter that a medical emergency occurred on the plane, however, Fisher has not been identified. 
Passengers on the flight have taken to Twitter to tweet about the incident.
According to passenger Anna Akana, an EMT provided CPR until the flight landed. Fisher was reportedly not breathing for 10 minutes. 
TMZ reported earlier in the afternoon Fisher is currently at UCLA on a ventilator. A source told the outlet that paramedics were performing CPR on the actress for 15 minutes after the plane landed before they were able to get a pulse. Fisher's brother, Todd, has now confirmed to the Associated Press she is "out of emergency" and in stable condition.
This story is breaking and will be updated.
Dec. 23, 2016, 7:07 p.m.: This story has been updated.