Carrie Fisher Dies: What we know about the actress's death so far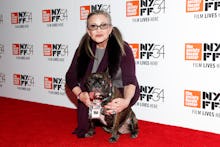 Actress Carrie Fisher has died at the age of 60, according to E! Online. Billie Lourd, daughter of Fisher, confirmed her mother's death.
Shortly before her death, Fisher reportedly had a major heart attack on a plane from London to Los Angeles, going into cardiac arrest 15 minutes before landing. On Friday afternoon, the Los Angeles Times reported that she was in critical condition before her brother told the Associated Press that she had been stabilized.
Among Fisher's most memorable roles were, of course, Princess Leia in the original Star Wars trilogy, which she reprised in 2015's Star Wars: The Force Awakens. Fisher also appeared in Shampoo, The Blues Brothers, Hannah and Her Sisters and When Harry Met Sally.
She was the daughter of famous Hollywood couple Debbie Reynolds and Eddie Fisher. 
At the time of her death, she was promoting her autobiography the Princess Diarist, which is her eighth book. 
This story is developing and will be updated.