'Star Wars' cast, celebrities tweet support for Carrie Fisher after heart attack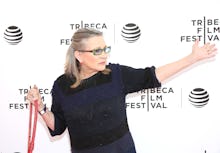 Carrie Fisher reportedly had a massive heart attack Friday while on a trans-Atlantic flight from London to Los Angeles, going into cardiac arrest some 15 minutes before landing. 
The Los Angeles Times reported Friday afternoon Fisher was in critical condition before her brother told the Associated Press that she had been stabilized. Fans, including her co-stars in the Star Wars series, which she famously starred in as Princess Leia, tweeted their support and well wishes to Fisher, 60.
Mark Hamill, who played Luke Skywalker alongside Fisher in the original Star Wars trilogy wrote, "As if 2016 couldn't get any worse... sending all our love to @CarrieFFisher."
Peter Mayhew, who played Chewbacca in the films, tweeted, "Thoughts and prayers for our friend and everyone's favorite princess right now."
Gwendoline Christie, who starred in 2015's Star Wars: The Force Awakens with Fisher, tweeted directly: "The whole world is sending you so much love! Sending you the universe's most powerful force." 
Not even Darth Vader is OK. 
Beyond the Star Wars franchise, William Shatner, who played Captain Kirk on Star Trek, also wished her well. "I ask everyone to stop for a moment and send special thoughts to @CarrieFFisher," he wrote.
Thoughts and prayers for Fisher have also come in from people like Katie Couric...
... comedian Margaret Cho... 
... actress Christina Applegate...
and many more to come. 
As more reactions pour in, Mic will update this list. 
Dec. 23, 2016, 7:02 p.m. This story has been updated.