Donald Trump's team asks for names of anti-extremism staffers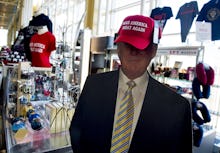 Republican President-elect Donald Trump's transition team has asked the State Department and the Department of Homeland Security to provide the names of all officials working on projects to identify and combat ideological extremists, Reuters reported on Friday. The move has government staffers worried that Trump's motive is to identify employees affiliated with President Barack Obama's anti-extremism programs, which the incoming administration views as insufficiently tough.
"They're picking a few issues to ask for people's names," one government official told Reuters.
Affected are a State Department counterterrorism bureau and a joint Department of Justice/DHS interagency task force including officials from the FBI and National Counterterrorism Center, both of which are intended to fight violent extremism. According to Reuters, the prevailing view among security officials wary of the request is that Trump plans to focus their efforts specifically on Islamic extremism.
However, there are many other terror threats facing the United States beyond Islamic zealots; right-wing nationalism, white supremacism or Christian terrorism has grown alongside a rise in hate groups and so-called "patriot" militias in recent years. In 2015, numerous law enforcement agencies reported in a survey — conducted by the New York Times and the Police Executive Research Forum — that right-wing terrorism was now considered their number one threat. In 2009, Republicans in Congress forced the shutdown of a DHS intelligence unit called the Extremism and Radicalization Branch, saying they were outraged a report on far-right extremism claimed some returning veterans may have an increased risk of radicalization.
Trump's team has asked for the names of staffers in other departments, namely Department of Energy employees involved in implementing Obama's anti-climate change agenda. The DOE refused to comply with that request, citing discomfort among staffers amid fears Trump plans to clear house.