ISIS affiliate Boko Haram has been totally crushed, Nigerian government says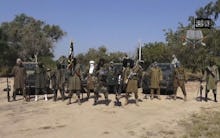 Nigerian President Muhammadu Buhari said on Saturday that his country's armed forces had crushed the last remaining stronghold of notorious terror group Boko Haram, driving the militants out of their "Camp Zero" in northern Sambisa Forest, USA Today reported.
Boko Haram, which pledged allegiance to the Islamic State of Iraq and Syria and stepped up coordination with the latter organization earlier this year, was founded in 2002 and launched a violent uprising in 2009. According to humanitarian organization Doctors Without Borders, as of late 2015, the United Nations High Commissioner for Refugees estimated the group's rebellion had displaced nearly 1.4 million people.
The group achieved international infamy during the course of its rebellion for its willingness to attack civilians in refugee camps and villages. In 2014, Boko Haram fighters kidnapped more than 275 young girls in the village of Chibok, spurring a two-year manhunt that recovered some but not all of the victims in the viral #BringBackOurGirls campaign. Approximately 200 are suspected to remain in the Sambisa Forest, according to USA Today.
"Further efforts should be intensified to locate and free our remaining Chibok girls still in captivity," Buhari said, according to the paper. "May God be with them."
Remnants of the group are believed to still pose a significant threat, with Nigerian security forces warning remaining fighters could still launch suicide attacks and armed assaults on civilians.