Donald Trump says he will dissolve his shady charity amid investigation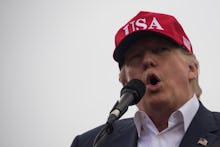 Republican President-elect Donald Trump announced on Saturday he would be shutting down the Donald J. Trump Foundation, the nonprofit he has run since 1988, to avoid the appearance of conflicts of interest in his forthcoming administration.
In a statement, Trump said the institution did "enormous good works over the years in contributing millions of dollars to countless worthy groups, including supporting veterans, law enforcement officers and children."
However, Trump ceased giving his own money to the fund in 2008 — except for a promised donation of $1 million to veterans' groups in May 2016, which he only gave after months of pressure from the media.
Rather than acting as a charity, for years the foundation seems to have operated as more of a self-dealing operation to further Trump's own interests. In addition to circulating donations from third parties to charitable interests and claiming it was his own money, the institution has come under fire amid allegations he used it to clear his own legal debts; to purchase a six-foot painting of himself, as well as a signed Tim Tebow helmet; and to donate $25,000 to Florida Attorney General Pam Bondi at the same time she was reportedly investigating Trump University.
Trump also repeatedly cited overblown estimates of his charitable giving, promising $8.5 million in funds and only delivering roughly $2.8 million, not counting the $1 million given to veterans this year. That's a very small amount, given Trump often boasts he is a multi-billionaire.
Further clouding Trump's claims of "enormous good works" is the fact the foundation is currently under investigation in the state of New York for operating without an official registration. State Attorney General Eric T. Schneiderman issued the institution a cease and desist in October. According to MSNBC legal correspondent Ari Melber, Trump legally cannot dissolve the foundation during that investigation.
So the supposedly magnanimous move to cease operations may in and of itself be illegal.