A&E cancels 'Escaping the KKK' reality show starring Klan members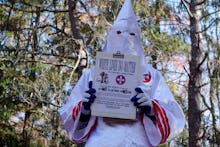 A&E says it will be canceling its documentary series Escaping the KKK, a show about Klansmen allegedly seeking to leave the hate group, after it discovered the series' producers paid participants for access, Variety reported on Saturday.
In a statement, A&E wrote "cash payments — which we currently understand to be nominal — were made in the field to some participants in order to facilitate access. While we stand behind the intent of the series and the seriousness of the content, these payments are a direct violation of A&E's policies and practices for a documentary. "
"We had previously provided assurances to the public and to our core partners — including the Anti-Defamation League and Color of Change – that no payment was made to hate group members, and we believed that to be the case at the time," the network added. "We have now decided not to move forward with airing this project."
The show was previously titled Generation KKK. After prominent critics, including Grey's Anatomy actors Ellen Pompeo and Jesse Williams, criticized the eight-part series for allegedly normalizing the hate group's activities, A&E changed the name to Escaping the KKK to better reflect its stated intent. The network also partnered with civil rights organizations including the Anti-Defamation League, Color of Change and the NAACP.
However, early reviews of the first four episodes from the Daily Beast's Nick Schager of employing "the formal format and devices of the channel's other hits (Hoarders, Intervention) to transform its bigots into colorful characters, thereby placing them on the same plane as the rest of cable TV's freaky reality stars ... In short: It legitimizes them."