Top Trump aide abruptly backs out of White House position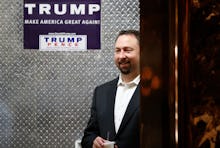 Only days after President-elect Donald Trump announced that he had tapped Jason Miller to join his administration as communications director, Miller announced he was backing out of the job, citing personal reasons, Politico reported on Saturday.
In a statement to the outlet, Miller said he felt he needed to devote more time to his family. "After spending this past week with my family, the most amount of time I have been able to spend with them since March 2015, it is clear they need to be my top priority right now and this is not the right time to start a new job as demanding as White House communications director," Miller said.
A string of "cryptic" tweets from fellow Trump transition team member A.J. Delgado ignited rumors that Miller's departure was related to an extramarital affair, Mediaite reported. Delgado reportedly deleted her entire account on Saturday after posting the messages.
Miller joined the Trump campaign over the summer, Politico reported, and had served as "a principal spokesman during the transition period," according to the New York Times. 
Trump announced his pick of Miller for White House communications director on Thursday. He also named Hope Hicks as his director of strategic communications, Dan Scavino as director of social media and Sean Spicer as White House press secretary.
"Sean, Hope, Jason and Dan have been key members of my team during the campaign and transition," Trump said in a statement Thursday morning. "I am excited they will be leading the team that will communicate my agenda that will make America great again."
Miller had reportedly "been encouraged to take the job" in Trump's White House by several big names in the incoming administration, including Reince Priebus, who will serve as chief of staff, and Steve Bannon, formerly of Breitbart, who will serve as a chief strategist to Trump, according to Politico.
In the statement announcing his decision to back out, Miller said, "I look forward to continuing to support the president-elect from the outside after my work on the transition concludes."
Dec. 25, 2016, 12:23 p.m.: This story has been updated.