Pope Francis talks war, refugees and materialism at Christmas Eve Mass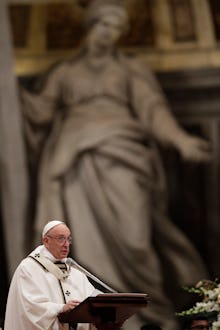 Pope Francis observed Christmas Eve on Saturday by delivering a homily to a "packed" crowd at St. Peter's Basilica in Vatican City, the Associated Press reported, during which he urged listeners to consider the children suffering worldwide in the midst of war and violence.
He made their plight a central theme, lamenting the children who are "hiding underground to escape bombardment, on the pavements of a large city, at the bottom of a boat overladen with immigrants."
Francis urged followers to take time to think of those children who are at risk — including a line that seemed to fully reaffirm the Catholic Church's anti-abortion position.
"Let us allow ourselves to be challenged by the children who are not allowed to be born, by those who cry because no one satiates their hunger, by those who do have not toys in their hands, but rather weapons," he said, according to the AP.
Francis has, in the past, called for compassion for refugees and urged Catholic communities in Europe to welcome refugee families — making compassion for very vulnerable people a central theme of his social agenda.
During Christmas Eve Mass, Francis also went after the evils of Christmas consumerism, calling out the indifference that happens "when we are concerned for gifts but cold toward those who are marginalized."
Dec. 25, 2016, 1:04 p.m.: This story has been updated.