Russian military plane crashes into Black Sea with 92 aboard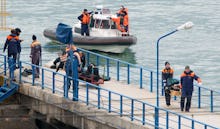 A Russian military plane that was reportedly carrying a total of 92 people — 84 passengers and eight crew members — crashed into the Black Sea minutes after taking off from Sochi on Sunday, the New York Times reported. Everyone aboard is believed to have been killed.
The aircraft was a Russian-made Tupolev Tu-154 military plane, according to the Times, and was headed for Syria. Among the 92 onboard were Russian journalists and 64 members of a well-known military band, the Alexandrov Ensemble, on its way to entertain Russian forces in Syria.
The plane had started its journey in Moscow and had stopped in Sochi to refuel. It "disappeared from radar two minutes after taking off" from there, the Times reported, a piece of the wreckage was found in the Black Sea about a mile offshore.
Russia launched a search-and-recovery mission in the Black Sea on Monday to locate the victims and the remainder of the fuselage, the Times reported. 
The cause of the crash is still under investigation. Russian transportation minister Maxim Sokolov said terrorism hasn't been ruled out, but that it's unlikely to have been involved in the crash. Instead, he suggested a possible technical problem or mistake on the pilot's part.
"In order to organize our work, we need to understand what happened," Sokolov said at a news conference, according to the Times. "As far as we know, the main versions do not include the terrorist act so we base our work on the premise that technical malfunction or pilot's error caused the catastrophe."
Officials reportedly said the plane should have been in good technical condition and that the pilot had nearly 2,000 hours flying the type of aircraft involved in the crash.
The bodies of 10 victims and a number body parts have been transported to Moscow for identification, officials reportedly said at the news conference. 
Russia observed a national day of mourning on Monday.
Dec. 26, 2016, 9:44 a.m.: This story has been updated.