5 achievements men should still be proud of in 2016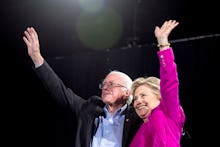 By many accounts, 2016 was a terrible, horrible, no good, very bad year for feminism: Reproductive rights continued to come under attack; the gender wage gap remained alive and well; and a presidential candidate who endorsed the sexual assault of women was elected to the White House. 
In light of all this grimness, let's take a moment to focus on one of 2016's most uplifting narratives: Men putting forth their best effort — but still falling short of women. 
The dudes below tried their best, but it just wasn't enough to beat out women for the top spots in entertainment, politics, athletics and more. Let's applaud them for their efforts!
U.S. men's swimming: Routinely dominated by Katie Ledecky
U.S. swimming phenom Katie Ledecky became a household name this summer when she took home four gold medals and one silver medal from the 2016 Rio Olympics, shattering world records in the process.
In an interview posted on USA Swimming's website, U.S. men's swimmer Conor Dwyer described how Ledecky would "break" male swimmers when they trained with her at the Olympic Training Center in Colorado Springs, Colorado, according to the New York Times Magazine. 
"Your morale goes down pretty quickly when you get broken by a female in practice," Dwyer said, after noting that he, personally, had never been "broken" by Ledecky. "I saw a couple of guys have to get yanked out of workout because they got beat by her." Yikes — sounds tough, boys!
Ledecky told the magazine she'd never even noticed. "I was probably just concentrating on doing my own work," she said.  
Good try, guys!
Bernie Sanders: Lost to Hillary Clinton
In June, former Secretary of State Hillary Clinton beat Vermont Sen. Bernie Sanders in the Democratic primaries, making Clinton the first female presidential candidate nominated by a major political party in U.S. history.
"We are preparing to shatter the highest glass ceiling in our country," Nancy Pelosi, the country's first female speaker of the House, said at the time. "Aren't you proud to be part of this historic moment in our history?"
Though she won the popular vote by nearly 3 million votes, Clinton was ultimately defeated by Donald Trump in the 2016 presidential election. She may not have shattered the White House glass ceiling, but in beating Sanders, Clinton shattered ceilings nonetheless.
Good try, Bernie!
Mark Kirk: Lost to Tammy Duckworth
Illinois Rep. Tammy Duckworth beat Sen. Mark Kirk in the Nov. 8 election, earning her his seat in the U.S. Senate. 
Duckworth, who lost both her legs while piloting a U.S. helicopter in Iraq in 2004, previously worked for the U.S. Department of Veterans Affairs. A member of the Democratic party, she was elected to the U.S. House in 2012, becoming the first Asian-American congresswoman from Illinois and the first member of Congress to be born in Thailand.
Kirk notoriously insulted Duckworth's Thai heritage when he questioned her family's ties to the American Revolution, telling Duckworth during a Senate debate, "I forgot your parents came all the way from Thailand to serve George Washington." Kirk later apologized.
Duckworth won with 66.3% of the vote to Kirk's 28.9% in the Nov. 8 election. 
Good try, Mark!
Men who tell women to shave: Taken down by Adele
Women can do whatever they please with their body hair, societal beauty standards be damned. No one made that clearer than Adele, who had some pointed words for any dude who tells her to shave.
In an interview with Vanity Fair, Adele confessed she once went a month without shaving her legs on tour. When asked if her boyfriend minded, the singer had a legendary response:
"He has no choice," she said. "I'll have no man telling me to shave my fuckin' legs. Shave yours." 
Good try, dudes who enjoy policing women's bodies!
Joe Heck: Lost to Catherine Cortez Masto
Democrat Catherine Cortez Masto defeated Rep. Joe Heck in the Nevada Senate race, making her the first Latina senator in U.S. history.
President Barack Obama blasted Heck in a speech in North Las Vegas in October — part of the president's efforts to campaign for down-ballot Democratic candidates leading up to Election Day. According to Business Insider, Obama sharply criticized Heck's views on abortion, immigration and criminal justice reform.
"There's one other difference between the candidates: Catherine never supported Donald Trump," Obama said of Heck, adding, "She never said she had 'high hopes' he would become president. Never said she'd trust his fingers on the nuclear code."
Heck ultimately withdrew his support for Trump after leaked tapes revealed the president-elect talking about grabbing women by their genitals.
The Nevada Senate race was close; Cortez Masto won the election with 47.1% of the vote to Heck's 44.7%.
"It's not just about making history. Don't you think it is about time that we had diversity in the U.S. Senate?" Cortez Masto said in her victory speech. "Don't you think it's about time that our government mirrors the people we serve every day?"
Good try, Heck!