Britney Spears Death Hoax: Rep confirms singer is alive and well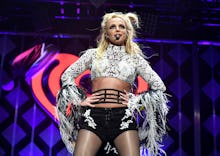 We said gut-wrenching goodbyes to too many musicians in 2016 — but rest assured, Britney Spears hasn't joined their ranks.
After a Twitter hoax Monday suggested Spears was "dead by accident," her rep confirmed the singer was indeed alive, CNN reported.
In what appears to have been a hack, Sony Music's Twitter account reportedly posted two now-deleted tweets announcing Spears' demise: "RIP @britneyspears #RIPBritney 1981-2016" and "Britney spears is dead by accident! We will tell you more soon #RIPBritney." 
Bob Dylan's official Twitter account may have been hacked, too; according to CNN, it tweeted "Rest in peace @britneyspears" around the same time.
A so-called "security" group called OurMine claimed responsibility for the hacks in now-deleted follow-up tweets from both accounts, Refinery29 reported. The group has taken credit for a number of prominent hacks, including that of Google CEO Sundar Pichai's Twitter and Quora accounts.
Spears' manager, Adam Leber, told CNN the pop star was very much alive.
"I assume their account has been hacked," Leber told the outlet. "I haven't spoken to anyone... as of yet but I am certain their account was hacked. Britney is fine and well. There have been a few internet clowns over the years who have made similar claims about her death, but never from the official Sony Music Twitter account."