5 celebrities who came out this year, and why their stories matter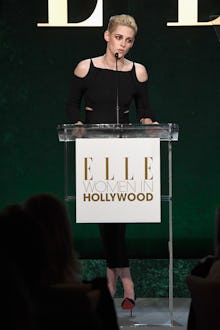 As we say goodbye to 2016, it is important to celebrate the milestones achieved this year, including the numerous celebrities who embraced their identities and came out publicly to their fans. 
These stories matter. Whether coming out as gay, lesbian, bisexual or transgender, celebrities who choose to express themselves openly help motivate others who may not be so famous to do the same. Here are five people who came out this year and why their stories have inspired us.
Kristen Stewart
Perhaps the biggest name to come out this year was Twilight actress Kristen Stewart. In a July interview with Elle UK, Stewart explained why she had been so private during her relationship with co-star Robert Pattinson, and provided further details about why she decided she had to be more open about her current relationship with visual effects producer Alicia Cargile. 
"To hide this provides the implication that I'm not down with it or I'm ashamed of it," she said in the interview. 
Though the relationship hadn't been much of a secret — the two had been seen out and about together on several occasions — Stewart became much more open about it this past summer.
Stewart previously dismissed the idea of labeling herself in an interview in Sept. 2015. "If you feel like you really want to define yourself, and you have the ability to articulate those parameters and that in itself defines you, then do it," she told Nylon. "But I am an actress, man. I live in the fucking ambiguity of this life and I love it. I don't feel like it would be true for me to be like, 'I'm coming out!'"
In 2016, however, Stewart publicly commented on her love of Cargile. 
"Right now I'm just really in love with my girlfriend," she said.
Lilly Wachowski 
The Matrix co-director came out this year as a transgender woman, much like her sister did in 2012. Unfortunately for Lilly Wachowski, her announcement was more forced than she would have liked it to have been.
Wachowski was approached by a journalist from the Daily Mail who made an unwelcome visit to the filmmaker in her own home. The journalist pressured her to come out in an interview, lest she be outed by some other publication.
At that point, Wachowski recognized the need to take over the narrative for herself, telling the Windy City Times, "I knew at some point I would have to come out publicly." But the timing of her announcement was not hers to choose: "Apparently I don't get to decide this."
Her story exemplifies the importance of coming out, but also doing so on your own terms. GLAAD's Director of Programs for Transgender Media Nick Adams explained this in a statement following Wachowski's announcement.
"Journalists must learn that it is unacceptable to out a transgender person, in the same way it is unacceptable to out a person who is gay, lesbian, or bisexual," Adams stated.
Trey Pearson
One of the more surprising announcements came from Trey Pearson, a founding member for the successful Christian rock group Everyday Sunday. Pearson, who was in a heterosexual marriage before coming out, had kept his identity a secret for decades before announcing that he is gay.
"It is like this weight I have been carrying my whole life has been lifted from me," he wrote in a letter to fans published in (614) Columbus, adding, "I have never felt such freedom."
Pearson is hopeful that his story will resonate in the Christian community, effecting positive change for those who struggle with both their sexuality and their faith. "There are millions of people out there going through what I've gone through that I can be a voice for," he said in an interview with Billboard, adding, "I can hopefully help and make an impact in their lives."
Aubrey Plaza
Parks and Recreation star Aubrey Plaza, known for her deadpan comedic style, came out this year as bisexual in a very nonchalant way, telling the Advocate magazine that she found both guys and girls attractive.
Plaza credits her openness and ease into the LGBTQ community with the fact that she has a few gay family members as well. 
"I have a gay aunt and a gay uncle, and I grew up thinking that everyone had a gay aunt or uncle," she said. One of her siblings is also gay: "My younger sister is a lesbian," she added.
As for herself? "Girls are into me — that's no secret," she said. "Hey, I'm into them too. I fall in love with girls and guys. I can't help it."
Harrison Browne
As a member of the Buffalo Beauts women's hockey team, Harrison Browne came out this year as a transgender man, becoming the first openly transgender athlete on the roster of any U.S. professional sports team.
In a letter to fans, Browne tried to incorporate humor into his announcement, stating that he preferred the pronoun "he" and giving a few examples of how fans might describe his play on the ice properly:
I'm Harrison. I'm a "he." As in "Harrison Browne made a good pass for the primary assist on that goal by the Beauts." Or "He really lost his check on that one," haha.
The National Women's Hockey League has been immensely supportive of Browne. Commissioner Dani Rylan told ESPN, "It's really not a big deal when you look at it, we're respecting his name, the pronouns and his request to be his authentic self."