The Best Movies of 2016: 7 films that captured our imagination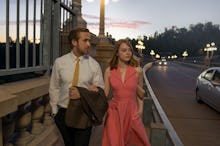 As the year comes to a close, we're getting even closer to the Oscars. But whatever happens when the nominees are actually announced, there were some undeniably wonderful features this year — films that delighted like La La Land, challenged our capacity for grief like Manchester by the Sea and made us think hard about how identity is formed and performed, as we saw in films like Moonlight and Jackie.
Oscars or no Oscars, here are seven of the best movies from 2016.
Arrival
Arrival is not your typical aliens-come-to-Earth movie. This is evident from the beginning of Denis Villeneuve's latest film, a meditation on language, communication and the power of time. Bolstered by one of Amy Adams' strongest performances, the film is about Louise Banks, a linguist hired by the U.S. government to help decipher the language of the aliens who have just arrived to Earth. Banks must devise a system to explain her intentions, and as the world begins to collapse under the fear of the unknown, she must find a way to convince everyone that their presence is anything but sinister. As a result, we get a film that's pensive, patient and ultimately heartbreaking as we come to understand the powers the aliens offer up to Banks.
La La Land
Reminiscent of classic musical movies like The Umbrellas of Cherbourg or Singin' in the Rain, La La Land is truly a spectacle, the third film from director Damien Chazelle (Whiplash). Starring Emma Stone and Ryan Gosling, the film is a contemporary look at two struggling artists trying to find success in a cutthroat Los Angeles. It's nothing we haven't heard before, but La La Land succeeds based on its lovely musical scenes — it opens in your typical LA traffic jam — and the chemistry between Gosling and Stone, who sing and dance their way through a town that's otherwise pretty toxic. It's unlikely you'll see something as pure, fun and magical this year. 
Jackie
When it comes to biopics, there's often a risk that the film will be too conventional in its quest to shed light on a subject. Jackie — Pablo Larraín's challenging portrait of first lady Jacqueline Kennedy — doesn't attempt to tell us everything about the wife of JFK, but instead provides us with a bolder, less predictable picture. Playing the first lady in the days following the assassination of her husband, Natalie Portman stuns as a woman shattered by the untimely death, but also as a figure overwhelmed by grief and a determination not only to secure the legacy of her departed Jack but her own legacy as well. We may not leave the film learning a whole lot about Jackie, but that feels like the point — there are several Jackies to know.
Manchester by the Sea
Kenneth Lonergan's Manchester by the Sea is a special film — it's funny, it's bolstered by powerhouse performances from leads Casey Affleck, Lucas Hedges and Michelle Williams, and is just about the most unflinching film about grief you'll see this year. Affleck plays a man so suffocated by his grief — the source of which is revealed slowly in flashbacks — that we are unsure if he'll ever be a fully-functioning, productive member of society. Nevertheless, he has to try when his brother leaves him with the custody of his teenage nephew after dying. Deceptively simple, Manchester by the Sea asks if some things are just too much to handle or to move past, and while Lonergan's film is a tender one that sees Affleck's Lee Chandler attempt to step up to the plate, this isn't a feel good movie about him coming into the position of surrogate father. We are made to understand that his tragedy will mark him forever. 
Moonlight
One of this year's greatest films also happens to be a success story. In its opening week, Barry Jenkins' Moonlight not only garnered acclaim, but it also happened to be the rare indie film that made a record amount of money. Initially opening in four theaters, Moonlight made over $400,000 its first weekend, the biggest per-theater-average of any film in 2016. The film explores three stages in the life of Chiron, first a young boy growing up in Miami. Chiron feels there's something different about him, something that removes him from the other boys his age, and throughout Moonlight we see how forces both in his control and outside of it help navigate his identity. Jenkins' film is not only a tender love story, but an important portrait of sexuality, race and especially masculinity.
Silence
Martin Scorsese set his latest film far from a world he's given us before. Silence, a passion project that has been ruminating in the director's mind for decades, is based on a Japanese novel about the last Jesuit priests who come to Japan in the 17th century. Andrew Garfield and Adam Driver play Sebastião Rodrigues and Francisco Garrpe, two Portuguese priests who go to Japan — despite the fact that Christians face persecution in the country — to seek out their mentor. What ensues is not only an epic journey taking the two figures to the coasts of the country and later to the center of the Tokugawa shogunate, but it's a stirring and quiet film about human suffering, questioning and the endurance of faith. 
20th Century Women
If you've seen Mike Mills' Beginners you know that the director and writer knows how to deliver a delicate film about family. While Beginners covered the fraught relationship between a middle-aged son and his dying father, Mills' latest picture is set in the late '70s, where we see a mother do her best to raise her son in a tense political and social climate. She's afraid he's going to be messed up and alone, particularly because he doesn't have a father figure, so she enlists the help of two other women to help raise him. 20th Century Women functions like a prequel to Beginners and is a sweet and nuanced film about femininity, motherhood and an unconventional family that radiates warmth.