Richard Hammond just bragged he was too straight to eat ice cream and Twitter dragged him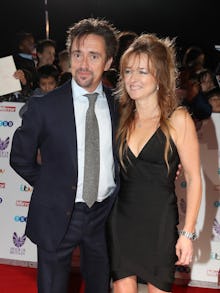 There's nothing more manly than grabbing a cold one from the freezer — as long as it's not ice cream, apparently. 
On Friday, Amazon Prime released the first season of The Grand Tour, a car-themed talk show starring journalists Richard Hammond, Jeremy Clarkson and James May. During the show's sixth episode, Richard Hammond admitted that enjoying ice cream in a car is not something he's keen on doing any time soon. 
His reason: his sexuality. 
Clarkson was speaking about the interior of a Rolls Royce when he said, "The only problem is that in one of those, you couldn't enjoy a chocolate Magnum ice cream." 
"It's all right, I don't eat ice cream," Hammond replied. "It's something to do with being straight."
At Hammond's comment, the audience began to clap and Clarkson seemed surprised. 
"Why are you applauding him?" Clarkson asked the audience. He then turned to Hammond and asked, "What do you mean? ... You're saying all children are homosexual?"
"Ice cream is a bit, you know," he began. "There's nothing wrong with it, but a grown man eating an ice cream, you know, it's a bit... it's that way rather than that way."
Twitter has had a good time roasting Hammond's fragile masculinity.
Several Twitter users commented on the irony of Hammond's episode coinciding with the death of gay icon (and straight shooter) George Michael. 
Hammond did not immediately reply to a request for comment from Mic. He has also not addressed the issue on social media.