How George Michael inspired James Corden's "Carpool Karaoke" segment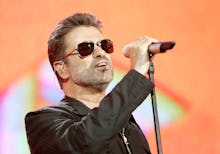 Before James Corden became a household name, he and longtime friend, George Michael conceived what would become the massive Late Show hit, "Carpool Karaoke." The pop icon, who died on Christmas day from heart failure at the age of 53, accompanied Corden in 2011 on his first sing-along for the British anti-poverty charity, Comic Relief.
The concept of the show was in its earliest phase of development when Michael hit the road with Corden to belt out Wham! tunes and masterfully poke fun at the singer's controversial past. After a hilarious verbal joust, Michael and Corden — who's in character as Smithy from the BBC series Gavin & Stacey — settle their differences by singing the Wham! song, "I'm Your Man."  
During a June 2016 interview on The Late Show with Stephen Colbert, Corden told the late night host about the first ever sing-along with Michael. "There was something very joyful about it," Corden explained. "We wondered if it was an idea... Los Angeles, traffic, carpool lanes, karaoke, traffic, driving people in the car, singing." 
Since word broke about Michael's death on Sunday, Corden, along with several "Carpool Karaoke" alumni like Mariah Carey, Elton John and Madonna, have taken to Twitter to pay tribute to the late singer, who Corden described as "an absolute inspiration."