What's new on Netflix? The best January 2017 movies and TV additions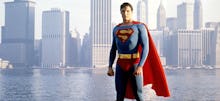 With a new month and year right around the corner, it may just be time to make some resolutions. Perhaps one of them will be to watch more Netflix? If so, that resolution should be an easy one to satisfy, as the streaming giant will be adding some great television and movie options to their service in January. 
Whether you are specifically interested in Netflix's original programming options, or just want a few new movies to watch, January's releases should be keeping you plenty busy — well, until February. Here are some of the best new additions to Netflix in January 2017. 
Superman (I through IV) and Superman Returns
While superhero and comic book adaptations may be huge right now, they might not be the phenomenon they are today if not for Richard Donner's Superman. The 1978 original comic book adaptation of Superman introduced the world to Christopher Reeve as the Man of Steel, and went on to gross over $300 million worldwide.
Nearly 40 years later, Superman arguably remains the single greatest film adaptation of the Man of Steel. If you want to watch the entire saga, Netflix will be releasing all four Christopher Reeve-starring films, plus Bryan Singer's homage sequel, Superman Returns, starring Brandon Routh, all on Jan. 1. Here is a suggestion: Watch Superman and Superman II, then skip right ahead to Superman Returns.
The Shining 
Looking for a scare? Well, look no further than Stanley Kubrick's classic adaptation of Stephen King's The Shining, coming to Netflix Jan. 1. Starring Jack Nicholson as Jack Torrence, The Shining was not always considered the classic it is today. In fact, Stephen King is not a fan of the film. Still, at this point, King is undoubtedly in the minority. 
With stunning visuals, chilling music and a stellar performance from Nicholson, The Shining is a horror classic that is perfect to enjoy during the winter months. Plus, you don't want to go too long without some enjoyment, as "all work and no play..."
E.T. the Extra-Terrestrial
You may be noticing that Netflix is releasing a slew of popular films from the late '70s and '80s. Well, in order to give their releases any credibility, the service must have decided they needed to include, arguably, the greatest film from the '80s — E.T.
Best '80s film or not, Steven Spielberg's E.T. will forever be a classic. Nominated for nine Academy Awards and grossing nearly $800 million worldwide, E.T. was one of the first true blockbuster films, whose influence you can still see in film and television today. You can catch E.T. on Netflix Jan. 1.
Caddyshack 
Oh look, a movie from the '80s. Considered as one of the all-time-great comedies, Caddyshack starred several comic geniuses including Chevy Chase, Rodney Dangerfield and Bill Murray. This golf course comedy is a film surely destined to stand the test of time, and was recognized by the American Film Institute in 2000 as part of its "100 Years... 100 Laughs" series (for laughs, of course). Caddyshack will be streaming on Netflix starting Jan. 1. 
Now for a new decade...
V for Vendetta
Based on the Alan Moore comic series of the same name, and starring Natalie Portman and Hugo Weaving, V for Vendetta is one of the better R-rated comic adaptations released to-date. Set in a dystopian future, V for Vendetta is a political thriller that could be an interesting watch for those disappointed with the way things went in 2016. The film will start streaming on Netflix Jan. 1. 
Hugo
There have already been some great directors on this list, but here is another for you. Martin Scorsese is a once-in-a-generation director, and arguably the greatest filmmaker of his era. And while Hugo may not join some of his other classics, like The Departed or The Wolf of Wall Street, any film by Scorsese deserves a watch. 
Plus, with a 94% on Rotten Tomatoes and 11 Academy Award nominations, it is pretty difficult to argue against watching Hugo. While the film was generally considered a financial disappointment, there is no doubt that it was one of the best films of 2011. Hugo will be available on Netflix starting Jan. 1. 
It's Always Sunny In Philadelphia (Season 11)
Fans of irreverent comedies, it is time to rejoice! It's Always Sunny in Philadelphia's eleventh season will come to Netflix on Jan. 3. While the FX (now FXX) series is a bit of an acquired taste, It's Always Sunny satisfies the palates of millions. Starring Charlie Day, Rob McElhenney, Glenn Howerton, Kaitlin Olson and Danny DeVito, It's Always Sunny is an easy binge this January.
Disney's Alice Through the Looking Glass
Granted, Alice Through the Looking Glass did not quite live up to its predecessor, Tim Burton's 2010 smash hit, Alice in Wonderland. Still, as the latest film to be released as part of Disney's streaming deal with Netflix, it is definitely an enticing option. If you missed the film in theaters (and a lot of people did) and enjoy Lewis Carrol's writing, Alice Through the Looking Glass is a solid option for a rainy day. It will be released on Netflix Jan. 11. 
A Series of Unfortunate Events (Season 1)
Coming to Netflix on Jan. 13 is the original series A Series of Unfortunate Events. Based on the set of books by Daniel Handler (using the pen name Lemony Snicket), A Series of Unfortunate Events will star How I Met Your Mother's Neil Patrick Harris as the evil Count Olaf, the role played by Jim Carrey in the 2004 film of the same name. 
Frontier (Season 1)
Coming to Netflix on Jan. 20 is the Discovery Channel-produced Frontier, starring Justice League's Jason Momoa. The series, which is about the North American fur trade in the 1700s, has already been renewed for a second season, so don't worry about getting attached a show that will not return. This series just may have some legs.
Voltron: Legendary Defender (Season 2)
Netflix is not only for adults, there are plenty of quality options for the little ones as well. On Jan. 20, Netflix will release the second season of the reboot series, Voltron: Legendary Defender. The first season received very positive reviews, and currently holds a 100% on Rotten Tomatoes. This is a quality options for kids and anyone who is a fan of classic '80s cartoons. 
Mic has ongoing coverage of Netflix. Please follow our main Netflix hub here.