George Michael Cause of Death: Here's everything we know so far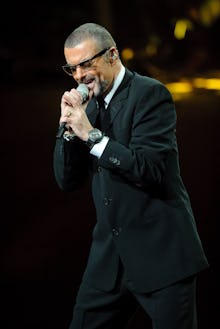 George Michael died of heart failure, the iconic singer's manager told the Hollywood Reporter.
"I'm devastated," manager Michael Lippman said. 
Michael, 53, was found dead "in bed, lying peacefully" at his home on Christmas morning. The Thames Valley Police, in a statement to the Hollywood Reporter, called the death "unexplained but not suspicious."
The circumstances that led to his death are not yet clear, but an autopsy report could be ready this week, forensic experts told the New York Times. 
Michael "not completely well" before death
Michael, who rose to fame in the 1980s as part of Wham! before embarking on a successful solo career, was "not completely well" in the years leading up to his death, radio and television presenter Paul Gambaccini told the New York Times.
Gambaccini, who had known the singer since childhood and represented him during a 2011 tour, noted Michael had a "close brush with death" five years ago due to pneumonia, and several people close to the "Faith" singer told the New York Times he'd had a history of "hard living."
Several British newspapers reported Tuesday that Michael had been battling heroin addiction in his last months.
Michael was a "closet philanthropist"
While reports of his history with drugs circulate, Michael's history of often unrecognized philanthropy has also begun to emerge.
Michael, who became a prominent gay rights activist after coming out during a CNN interview in 1998, was a "closet philanthropist," Gambaccini told the New York Times, donating large sums of money, leaving massive tips at restaurants and volunteering at a homeless shelter anonymously. 
"He never wanted public recognition," Gambaccini said. 
Celebrities react to George Michael's death
Celebrities like Elton John and Wham! bandmate Andrew Ridgeley publicly mourned the late singer on Twitter.
Michael's partner, hairstylist Fadi Fawaz, tweeted Monday that he would "never stop missing" Michael.