Israel suspends working ties with some of the world's most powerful countries over UN vote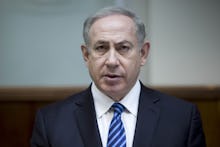 Israel is lashing out at the nations that voted to condemn Israeli settlements in the West Bank, suspending working ties with at least 10 countries that voted yes on the resolution, NBC News reported Monday.
Suspending working ties with 10 nations on the United Nations Security Council — which seeks to maintain peace and security across the globe — means Israeli Prime Minister Benjamin Netanyahu "will not meet with the foreign ministers of those countries and their ambassadors will not be received at Israel's Foreign Ministry," CNN reported, citing Israeli officials.
Israeli ministers' travel to the countries "will also be limited," according to CNN, though "Israeli ambassadors in the countries will still be able to continue working with the governments of their host nations."
Israel will also curb its foreign ministers' travel to those 10 countries, which are Britain, France, Russia, China, Japan, Ukraine, Angola, Egypt, Uruguay and Spain.
Other news outlets, including CNN and the Times of Israel, reported that Israel is also cutting working ties to New Zealand and Senegal, bringing the total number of countries to 12. Israel cut foreign aid to Senegal after its recent vote against the Israeli settlements.
Two other nations on the council that voted for the resolution — Venezuela and Malaysia — do not currently have diplomatic ties with Israel, and thus were not included the list. 
Israel is not severing diplomatic ties with the United States, which abstained from voting for the measure. The U.S. abstention paved the way for the resolution to pass. 
Netanyahu has, however, chastised President Barack Obama and Secretary of State John Kerry for the resolution. A Netanyahu spokesman is also saying the Obama administration helped draft the resolution — something the White House denies.