'GTA 5 Online' 1.37 money glitch lets you duplicate cars and make cash fast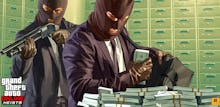 Rockstar Games is generally pretty good about patching new glitches in Grand Theft Auto 5 Online, but a recent exploit from update 1.37 that lets you duplicate cars to get unlimited money still appears to be working in GTA 5 Online.
The GTA 5 Online 1.37 money glitch was included in the game as part of the Import/Export DLC update. Rockstar will probably fix this glitch pretty soon, but if you're looking for a way to get some quick cash in the game, this may be your best shot.
GTA 5 Online 1.37 money glitch: How to prepare
According to YouTuber JDROCKS, this glitch online works on PC, PS4 and Xbox One. So if you're using an older console like the PS3 or Xbox 360 you're unfortunately out of luck.
You'll also need to set up an office garage in the CEO building for this glitch to work. Additionally, you'll need a custom shop for modifying your cars and a friend to help you pull off the GTA 5 Online 1.37 money glitch.
Finally, you'll need a car to duplicate and then sell. Pick your most expensive car and park it all the way to the right in the garage. Then fill the rest of the spots with other cars. Now you're ready to get started.
GTA 5 Online 1.37 money glitch: How it works
From here, the glitch gets pretty complicated. It requires getting in and out of multiple cars along with some very precise timing.
If you want to try it out for yourself your best bet is to follow along with JDROCK's video below. Good luck!
More GTA 5 and GTA Online news, tips and tricks
If the glitch isn't working you can still check out Mic's guide on how to make money fast in GTA Online without cheating. You should also take a look at our roundup of all the best cheat codes for GTA 5 and how to make money with the Import/Export update