New Year's Eve 2017 Comedy Shows: Locations for Amy Schumer, Jim Gaffigan and more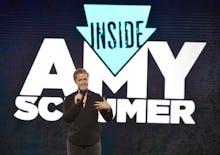 End 2016 — and start 2017 — with a good laugh. If you're looking for something to do on New Year's Eve, there are plenty of big name comedy acts coming to a city near you. Check out 10 comedy shows lined up for Saturday, Dec. 31.
[Editor's note: Prices and availability are subject to change.]
Amy Schumer
Funny gal Amy Schumer is bringing the laughs to Mahalia Jackson Theater for the Performing Arts in New Orleans on New Year's Eve. Tickets are currently sold out on Ticketmaster, but some are still available on Stubhub. The show begins at 8 p.m.
Louie Anderson
If you love FX's Baskets then you won't want to miss Louie Anderson at the Ames Center in Burnsville, Minnesota. The Emmy winner will be putting on two shows, one at 7 p.m. and another at 10 p.m. Tickets range from $32.95 to $102.95 on Ticketmaster.
John Oliver
Fans that miss HBO's Last Week Tonight with John Oliver can get their fix of the comedian at the Fox Theatre in Detroit. He'll be performing at 7 p.m. Ticket prices range from $59.75 to $79.95.
Jay Leno
Jay Leno will be ringing in the new year at Mohegan Sun Arena in Uncasville, Connecticut. The show starts at 8 p.m. Tickets are only $39 on Ticketmaster.
Jim Jefferies
Jim Jefferies will be performing twice at The Wilbur in Boston on New Year's Eve. Catch his show at 7 p.m. or 10 p.m. Remaining tickets cost $51.95.
Jeff Dunham
Jeff Dunham brings his Perfectly Unbalanced tour to the Allstate Arena in Rosemont, Illinois. The show is an early one, starting at 3 p.m. Prices on Ticketmaster range from $36 to $51.
Chris D'Elia
Los Angeles can celebrate 2017 with Undateable and Whitney star Chris D'Elia. Tickets for his 7 p.m. show at The Wiltern are $40 on Live Nation.
Janeane Garofalo
Comedian and Wet Hot American Summer star Janeane Garofalo will be part of the New Year's Eve Comedy show at EastVille Comedy Club in New York City. Other performers set to take the stage Saturday night include Tanael Joachim and Laurie Kilmartin. The show starts at 7 p.m. Tickets are available on Ticketweb for $25.99.
Brian Regan
Comedian Brian Regan is performing at the Music Hall at Fair Park in Dallas on Saturday. The show starts at 8 p.m. and ticket prices range from $57 to $67.
Jim Gaffigan
Jim Gaffigan will be at the Pabst Theater in Milwaukee on New Year's Eve as part of the venue's 10th anniversary show. Tickets are sold out through the venue's website, however a few still remain on StubHub. The show starts at 10:30 p.m.