States where it's legal to send marijuana gifts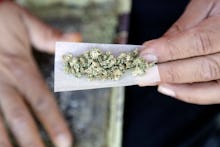 Looking to buy a last-minute gift for the pot enthusiast in your life?
There are a great many weed-themed gifts to choose from, but only some states allow recreational marijuana use.
Here are the states where your pot presents are lawful (within reason, of course):
Alaska
In 2014, The Last Frontier became the fourth state to legalize weed . People 21 and older can possess up to an ounce.
California
California has allowed medical marijuana since 1996, but it wasn't until this year that voters passed a ballot measure allowing recreational use. While there likely won't be any dispensaries in the state until 2018, you can already legally smoke weed there, provided you are over 21, in possession of less than 28.5 grams and not in public. Also, buying from an unlicensed seller remains illegal. But you can share pot as long as no money changes hands. 
Colorado 
Pot has been legal in Colorado since 2012. Adults 21 and older are allowed to possess up to one ounce of pot and cultivate up to six plants.
Maine
Maine voters narrowly approved a measure this November legalizing pot for recreational use. However, it's unclear when the law will take effect as lawmakers in the Pine Tree State continue to grapple with the logistics of legal weed. Further, Gov. Paul LePage, an opponent of legalization, may challenge the measure. Still, the Portland Press-Herald reported that people in Maine may be able to legally grow and possess their own weed by late January or early February — in time, perhaps, for a belated holiday gift.
Massachusetts
Massachusetts was another New England state to pass a pot legalization measure in November. Recreational use became legal Dec. 15, just in time for the holidays, and marijuana shops will open in 2018.
Nevada
Nevada residents approved recreational marijuana use in the November election. It probably won't be possible to buy weed from dispensaries until 2018, but starting Jan. 1, it'll be legal to possess an ounce or less of marijuana in the Silver State.
Oregon
Oregon voters approved Measure 91, which legalized recreational pot use, in 2014. It is legal to possess up to an ounce of pot and up to four plants there.
Washington
Since passing Initiative 502 in 2012, people in Washington state have been allowed to possess an ounce or less of weed for personal use. However, the cultivation of pot plants remains a felony punishable by up to five years in jail — so just make sure your gift isn't still alive. 
Washington D.C.
Voters in the District of Columbia approved recreational marijuana in 2014, and the law took effect in 2015. It is legal for people 21 and older to possess up to two ounces of marijuana for recreational use and to cultivate up to six pot plants.