9 TV shows returning in 2017 after their best seasons yet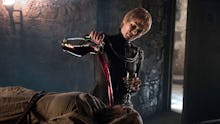 It was a good year for TV. It's a statement that has seemed true in the past couple of years, but in 2016 we saw some of our favorite TV shows at their best. Game of Thrones proved that it has no intention of slowing down, The Americans solidified itself as an all-time best drama and even Veep — five seasons in — feels fresher and more relevant than ever.
Below are some of the shows that — unlike most of us — had a great 2016 and hopefully will have an even greater 2017.
The Americans
Four seasons in, The Americans is the rare TV series that has not diminished in quality over the years. In fact, season four of the FX spy drama is arguably the best we've seen of it so far. In season three, Elizabeth and Philip Jennings decide to tell their daughter Paige that they aren't simply travel agents, but actually Soviet sleeper agents sent to the United States to spy for their country. Naturally, the latest season deals with the consequences of coming out to their daughter, but it also manages to deal with larger threats: the possible exposure of one of their assets, a chemical weapon, and how their job and dedication to their country ultimately causes them to break down and doubt their beliefs. Season four goes back to Philip's and Elizabeth's roots, and despite having several complex plot lines, it balances them perfectly, humanizing the two people who up until now seemed like they could do anything. 
While an official date has yet to be announced, we'll see how far their allegiances stretch in season five, which will come out sometime this March. 
American Crime Story
Yes, American Crime Story has only had one season, and it would be a little strange to call it its "best season yet," but season one — titled The People v. O.J. Simpson: American Crime Story — was such a cultural phenomenon that it would be impossible not to include it on this list. Produced by Ryan Murphy, everything about the anthology series, especially its first season, seemed tricky. After all, how can someone successfully recreate the famous O.J. Simpson trial in narrative form? Well, The People v. O.J. Simpson found a way, and ended up being an intelligent and timely series not only about one of the most famous murder trials in contemporary American history, but also — on a grander scale — about the nuances of race relations in America.
Season two of American Crime Story will have an entirely new setting and characters, and will center around Hurricane Katrina. A release date for the new season has yet to be announced, but is expected in early 2017.
Atlanta
Another freshman series makes this list, only because it's a singular and confident vision from the talented Donald Glover. Created by Glover, Atlanta also stars Glover as Earn, an Ivy League-educated guy who returns home to Atlanta and decides he wants to help his cousin, an up-and-coming rapper named Paper Boi, achieve huge success. But Atlanta is never a traditional biopic or a stereotypical portrayal of a rapper's ascent to fame. Instead, it's a surreal piece of work, a series that operates on its own weird sense of logic to tell a story about several black characters and the city they inhabit. 
FX renewed the series and a second season will premiere sometime in 2017.
BoJack Horseman
Season two of BoJack Horseman was a feat, a collection of episodes seemingly impossible to top. But season three of the series, an animated comedy (it's more devastating than anything) about anthropomorphic animals in Hollywood, decided to go all out, giving us a series of episodes that function as gorgeous standalones — the underwater episode, the Princess Carolyn restaurant episode, the blackout episode — but also work together to create a cohesive masterpiece that tackles the titular character's boredom, depression and desperation to connect with with people in a world where it is so hard to connect with people. Its ability to do both made its third season the one to beat.
BoJack Horseman is expected to continue with its fourth season, airing on Netflix sometime in summer 2017.
Game of Thrones
Sustaining a show like Game of Thrones seems close to impossible. With its huge ensemble and the speed in which characters kill and are killed, it's hard to keep track of whether or not the series is more than just violence masked by good acting and beautiful landscapes. Well, season six of the series proved that Game of Thones can have it all. Perhaps the best season since the first, or even better than the first, season six saw one of the most epic battles in the show's history, the resurrection of a beloved main character and some big leaps for the Iron Throne finally being made by the Mother of Dragons. It was violent and sexy, and showed the best the series has to offer while also moving things towards a conclusion.
Despite delays, Game of Thrones will return to HBO for a seventh season in summer 2017.
Girls
When Lena Dunham announced the end of Girls, many let out sighs of relief. It's not that her HBO series was ever truly bad, but it did seem to be going on for far too long. So it came as a huge surprise when season five proved to be the most mature season yet, one that has an endgame in mind. The girls are finally growing up, particularly Hannah, who had several rude awakenings. This year's Girls also gave us some of the season's best episodes: Marnie's reunion with Charlie and a stunning finale that saw Hannah doing exactly what Hannah should be doing, telling us stories.
The sixth and final season of Girls will air on HBO on Feb. 12, 2017.
Halt and Catch Fire
Three seasons in, Halt and Catch Fire has proven to be a surprise gem. Its first season was pretty unremarkable, but the writers quickly caught on, and season two saw a wise refocus, putting the women of the show front and center. Season three, however, was even better. Season three takes us to Silicon Valley, where we essentially get the first looks at how the internet started during the tech revolution in the 1980s. But beneath all the jargon, the best thing about the season — something that the series learned in its second season — was the development of the relationship between Donna and Cameron, which starts to deteriorate in season three. 
Halt and Catch Fire will end with a fourth season, slated for an undisclosed date in 2017.
Insecure
Despite all the great shows on HBO — Veep, Silicon Valley, Game of Thrones — it's hard not to see that the network has had a bit of a diversity problem in the last couple of years. Bring in Insecure, a new series created by and starring Issa Rae. The series follows Issa and Molly, two best friends who — throughout the first season — navigate their relationship with each other, with men and with their workplaces. It's a rich comedy, one that, interestingly enough, doesn't have its protagonists in creative industries (Issa works for a nonprofit, Molly as an associate in law firm), and watching the women as they come to understand their desires feels more special than most things on TV.
Although HBO has picked up Insecure for a second season, a release date hasn't been given. It's expected for sometime during fall 2017.
Veep
Given our own insane election cycle, there's pressure on Veep to keep giving us unpredictable insanity. And the HBO comedy series did just that in its fifth season, the first that featured David Mandel as showrunner after Armando Iannucci left. Still one of the best ensemble comedies on TV — led by a Julia Louis-Dreyfus, who outdoes herself season after season — season five was about Selina's presidency, which seems less and less certain as time goes on. But the season also expanded on Catherine, Selina's timid daughter, which gave viewers some insights about Selina's relationship with her own mother. 
Season six of Veep will premiere on HBO in spring 2017.