An Apple iPhone with 2 cameras is reportedly in the works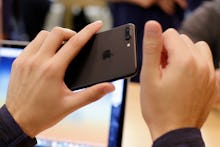 2017 is bound to a big year for Apple. It marks the tenth anniversary of the iPhone's release and Apple reportedly has major plans for the device's new models. Among them is a standard-size iPhone that flaunts an additional camera. 
9to5Mac picked up a report from Japan's Macotakara claiming that Apple will introduce a 5-inch iPhone equipped with dual cameras akin to the iPhone 7 Plus. The big difference? These cameras will supposedly feature a vertical design rather than the horizontal setup seen on the 7 Plus. 
The report cites an unnamed Taiwanese supplier and claims that the 5-inch iPhone will have identical specifications to the iPhone 7s and iPhone 7s Plus. If true, this would mean Apple is likely planning to launch five new iPhone models — the iPhone 7s, iPhone 7s Plus, iPhone 8, iPhone 8 Plus and this 5-inch iPhone with vertical cameras. 
It sounds like a crowded field, and perhaps Apple will decide to put the vertical cameras into the iPhone 7s. After all — according to this report — the only difference between the two is the camera. 
Regardless of Apple's roll-out strategy, the tech world is almost positive new iPhones with some exciting new technology are on the way. The iPhone 8 is said to feature an all-glass body with a curved edge-to-edge OLED screen and wireless charging. Big changes are coming, it's just a matter of pinning down which exact iPhone model will receive them. 
We should learn more as we progress through 2017. If Apple sticks to its usual script, a rebooted iPhone line will be unveiled in September.