Android Nougat Update: Everything new in the latest operating system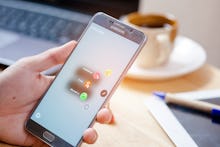 In August, Google released the new Android operating system, Android Nougat, with 250 major features. While Android Nougat 7.0 has been rolling out on different devices and carriers, Google rolled out an update in the first week of December: Android Nougat 7.1.1. The updated version of the operating system came with a handful of changes and modifications. Below are some of Android Nougat's most exciting features:
Customize Quick Settings for a more personalized device
The Quick Settings controls in an Android device allows a user to easily access features like Bluetooth, flashlight and Wi-Fi. Smartphone owners can customize where each tool or feature is located with the new operating system. "With Android Nougat, you can actually control what tiles go where, and move 'em around to fit your needs," Google wrote in a blog post.
Three new features to facilitate multitasking
To make multitasking more seamless, Android Nougat offers a direct reply function, multi-window support and quick switch. Direct reply allows users to reply to notifications without having to open an app, a feature already seen on iOS. Android Nougat also lets two apps run side by side with the multi-window feature. "The windows are resizable, too, by simply dragging the divider," Google said. Lastly, the quick switch feature allows a user to navigate between the two most recently used apps using the Overview button.
Virtual reality support
Android Nougat supports Google's mobile virtual reality platform, Google Daydream. With Android Nougat, Daydream-ready phones can experience virtual worlds. 
Send GIFs directly from the keyboard
GIF lovers can directly send GIFs from their device's keyboard on supported apps with Android 7.1.1. These apps include Google Allo, Google Messenger and Hangouts.
App shortcuts are available on the home screen
Users can access app shortcuts from their home screen by long-pressing on the app icon. "Launch actions on your favorite apps, such as Twitter or Google Maps, by simply long-pressing the app icon," Google wrote in a blog post. "Jump directly into an existing conversation on Google Messenger or start an entirely new one — all straight from the app icon."
More diverse and inclusive emojis
Google launched new emojis with its Pixel phones that promote gender equality by showing both men and women in different roles. These emojis are now available for all devices that run on Android Nougat 7.1.1, in addition to the 72 new emojis released with Android Nougat 7.0.