What movies are coming out in January 2017? 13 can't-miss new and expanding releases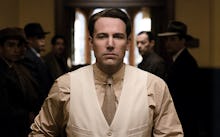 As reported by Deadline, 2016 is soon to become the highest grossing year in domestic box office history, topping the $11 billion mark over the holiday weekend. As such, it would be understandable if you are suffering from some film exhaustion. Still, for those that have never heard of such a thing, there are still several quality movie options coming the first month of the new year. 
January is usually a slow month at the box office, as major tent-poles — like Doctor Strange, Fantastic Beasts and Where to Find Them and Rogue One: A Star Wars Story — are released during the last few months of the year, and awards contenders start their limited run in time for eligibility. Even so, January will still see several awards contenders expand wide and a few wannabe blockbusters try and do good business. 
Here are the January 2017 movie releases to look out for.
Hidden Figures (Jan. 6)
Hidden Figures received a limited release on Christmas Day, and will be expanding wide on Jan. 6. The film, which stars Taraji P. Henson, Octavia Spencer and Janelle Monáe, tells the true story of three brilliant African-American women who worked for NASA and were instrumental in the success of John Glenn's orbit around Earth.  
With a 92% rating on Rotten Tomatoes, Hidden Figures is bound to be in consideration for Oscar gold. Octavia Spencer, already an Oscar winner, has received Screen Actors Guild and Golden Globe award nominations for her role. Check out our review of Hidden Figures here. 
A Monster Calls (Jan. 6)
Also expanding wide on Jan. 6 is A Monster Calls, based on the Patrick Ness novel of the same name. The film, which received a limited release on Dec. 23, has been nigh universally lauded by critics, and currently has an 88% on Rotten Tomatoes. The films, which Mic called "an emotional reminder of the power of art as healing" stars Lewis MacDougall, Sigourney Weaver, Felicity Jones and Toby Kebbell, with Liam Neeson as the Monster. 
Underworld: Blood Wars (Jan. 6)
The fifth film in the Underworld series starring Kate Beckinsale, Blood Wars will hit theaters on Jan. 6. While the Underworld franchise has never been known as a critics-pleasing series (no Underworld film has over 31% on Rotten Tomatoes), audiences generally enjoy the films, which have never received below a B+ CinemaScore. So, if you want to see some bloody, vampire action this winter, Blood Wars may be the film to check out. 
Patriots Day (Jan. 13)
Patriots Day, which expands wide on Jan. 13, sees Mark Wahlberg team with director Peter Berg for the third time — following Lone Survivor and Deepwater Horizon — in a dramatic account of the Boston Marathon bombing. Patriots Day has received generally positive reviews with an 80% on Rotten Tomatoes. General audiences are responding even more favorably, giving the film a score of 93%. You can read our review of Patriots Day here. 
Live by Night (Jan. 13)
After receiving a limited release on Christmas Day, Ben Affleck's fourth film as a director, Live by Night, is set to expand wide on Jan. 13. The film is quite shockingly — considering Affleck's early directorial efforts — receiving largely negative reviews. Still, Live by Night could be a good option for any fans of classic mobster films. 
The Bye Bye Man (Jan. 13)
For fans of straight horror films, The Bye Bye Man, hitting theaters Jan. 13, may be the month's best option. Directed by Stacy Title with a script by Jonathan Penner, the film is set to explore the supernatural entity that causes people to commit horrific acts. Here is a suggestion: Don't see this one alone. 
Monster Trucks (Jan. 13)
Nobody will blame you if you skip Monster Trucks on Jan. 13 — not even Paramount. In September, the studio took a $115 million write-down on the film, which had not yet been released. Monster Trucks appears to be DOA as there has been very little marketing for the film about a truck infused with a monster (seriously, that is what this film is about), and the critics who have seen the film have not been kind. Of course, Monster Trucks could become an "it's so bad it's good" film, so maybe go see it if you want to get ahead of the curve.
20th Century Women (Jan. 20)
20th Century Women is yet another awards contender set to expand wide during the month of January. Currently holding a stellar 95% on Rotten Tomatoes, 20th Century Women stars Annette Bening in one of her best roles in years. The film was written and directed by Mike Mills, and is about a mother, played by Bening, parenting her teenage son with the help of a few of her tenants. The film also stars Greta Gerwig, Elle Fanning and Lucas Jade Zumann. 
The Founder (Jan. 20)
After starring in two critically acclaimed awards contenders in as many years — Birdman and Spotlight — Michael Keaton takes on the role of McDonald's pioneer, Ray Kroc. The Founder is the true story of how Kroc acquired McDonald's, eventually turning it into the fast food giant it is today. While the film has received generally positive reviews, it does not appear to be a major player on this year's awards circuit. Still, it is a remarkable story, one business students have been studying for years.
xXx: Return of Xander Cage (Jan. 20)
Fifteen years after Vin Diesel starred as Xander Cage in xXx, the action star returns for the third film in the franchise, xXx: Return of Xander Cage. While xXx earned over $270 million worldwide, the sequel, xXx: State of the Union, flopped with Ice Cube replacing Vin Diesel in the lead role. Paramount is no doubt hoping that Vin Diesel's expanded worldwide appeal (thanks largely to the Fast & Furious franchise) will lead this high-octane action threequel to box office glory. 
Split (Jan. 20)
With The Sixth Sense, Unbreakable and Signs, the master of the twist, M. Night Shyamalan, became one of the hottest directors in Hollywood. Unfortunately, Shyamalan followed those three films with a slew of financial and critical disappointments. And for a moment, it looked like he could be finished. The director, though, rose from the dead with 2015's The Visit, which earned nearly 20 times its $5 million budget. 
The director is hoping to keep the magic alive with his next film, Split, starring James McAvoy as Kevin, a troubled man with over 23 unique personalities, who kidnaps three teenage girls. The film currently holds an 81% on Rotten Tomatoes, and appears to be a thrilling return to form for Shyamalan. 
Resident Evil: The Final Chapter (Jan. 27)
The sixth and final chapter of the Resident Evil film franchise hits theaters on Jan. 27. Milla Jovovich once again stars as Alice, in a film that is looking to close out the most financially successful video game film franchise on a good note. Like the Underworld series, Resident Evil has never wowed the critics, but still makes for a solid option if you are looking to turn your brain off for a few hours. 
Gold (Jan. 27)
Featuring a stellar cast that includes Matthew McConaughey, Edgar Ramírez and Bryce Dallas Howard, Gold is directed by Stephen Gaghan, who won an Academy Award for writing Traffic. The film follows McConaughey as an unfortunate businessman who goes looking for gold in Indonesia.