George Michael's boyfriends: Fadi Fawaz and Kenny Goss speak out about singer's death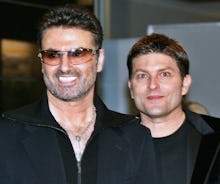 Wham! singer and gay icon George Michael — singer of the holiday hit "Last Christmas" — was discovered dead on Christmas Day in his home in Oxfordshire, United Kingdom. According to the police statement published by the New York Times, the 53-year-old's death was "unexplained" but "not suspicious." Michael's manager, Michael Lippman, told the Hollywood Reporter the cause of death was heart failure.
Fadi Fawaz
E! Online reported it was celebrity hairstylist Fadi Fawaz, Michael's boyfriend of several years, who found the singer dead in his home. The day after Christmas, Fawaz tweeted, "It's a Christmas I will never forget. Finding your partner dead peacefully in bed first thing in the morning ... I will never stop missing you."
Fawaz told the Daily Telegraph the couple had planned to go out for lunch on Christmas. 
"Now everything is ruined," he said. "I want people to remember him the way he was — he was a beautiful person."
Kenny Goss
Michael began dating Texas-born art dealer Kenny Goss in 1996 and, according to People, once planned to marry him. They broke up in 2009, though the singer did not confirm the end of their relationship for two years, according to the Daily Telegraph.
Goss told the Daily Telegraph Michael was an "extremely kind and generous man." In a statement, he said, "I'm heartbroken with the news that my dear friend and longtime love George Michael has passed. He was a major part of my life and I loved him very, very much."
He added, "The beautiful memories and music he brought to the world will always be an important part of my life and those who also loved and admired him."
According to Dallas News, Goss and Michael cofounded the Goss-Michael Foundation in 2007 as a home for British contemporary art. The foundation began as an art gallery in Dallas, Texas. Per the organization's website, the foundation now exhibits international and Texas-based artist to augment its British collection. 
In 2005, Goss told the Dallas Morning News he could never bring himself to tell his parents he was gay, nor did they ever met Michael: "It was this big pink elephant in the center of every holiday. It was the one thing everyone knew about but didn't dare discuss."
Coming out 
Despite his modern reputation for being a gay star, Michael was not always so public about his sexuality and his relationships with men. Michael came out as gay in a 1998 CNN interview after an undercover police officer found him engaging in a sexual act in a public restroom in Beverly Hills. According to the Independent, Michael was not only fined and assigned community service, but was skewered by the press. In a story about the incident, the Sun published the headline "Zip Me Up Before You Go Go" on its front page.
In an article published the day after Michael's death, CNN acknowledged that in 1998, societal ideas about homosexuality were far more negative than they are today. Same-sex marriage had not been legalized, violence against LGBTQ people was not considered a hate crime and people living with HIV and AIDS were stigmatized. 
In other words, Michael's public confession about his orientation was tremendously brave. In that same CNN interview, Michael explained the dire need to keep his sexual orientation private — to the point he didn't have his first gay relationship until the age of 27, when he dated Brazilian designer Anselmo Feleppa. 
"It's very hard to be proud of your sexuality when it hasn't given you any joy, but once you have found somebody you really love it's not so tough," Michael told the Huffington Post in 2009.
According to People, the man Michael identified as his first love found out he was HIV positive six months into their relationship. Feleppa died in the early 1990s, causing the singer to enter what he described as "a deep black hole" of depression before he began dating Goss.
The fact Michael's boyfriends could come forward and publicly acknowledge the singer's death shows just how much societal attitudes toward homosexuality have changed since 1998.
What was to come
E! Online reported the star's passing happened shortly before his intended return to the spotlight. In September, Sony announced it would be reissuing an anniversary edition of Listen Without Prejudice Vol. 1 in 2017; Showtime was also planning to air Freedom: George Michael, a tribute film to the making of the album. The movie will touch on Feleppa's death.