Black transgender New York subway rider stabbed after offering a woman his seat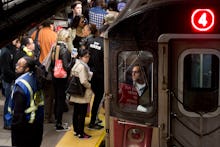 Ijan Jarrett, 44, was taking the subway home Sunday night after working a shift at a New Jersey hair salon when he was stabbed by a woman who didn't want to sit next to him because he was black, the New York Post reported.
Jarrett, who identifies as transgender, told the Post that a few stops later, the woman stormed over to him, punched him and stabbed him under his left eye, on the back of his hand and on his left arm. The woman, identified as Stephanie Pazmino, was charged with assault as a hate crime, the New York Daily News reported. 
"It was a hate crime charge because one of the victims had mentioned that they didn't want to sit down next to a black person," an NYPD spokesperson said in a phone call with Mic. The victim's transgender status had nothing to do with the attack, the spokesperson said.
Jarrett said he did nothing to provoke the attack. He said two women, one of whom was Pazmino, came onto the train and he asked if they would like to sit together. Pazmino declined and yelled, "I don't want your seat!" the Post reported, citing police sources. She then turned to the second woman, her cousin, and stated, "I don't want to sit next to a black person," the Post reported. 
Jarrett told the Post he heard one of the women say the word "Negro." 
According to the New York Daily News, Pazmino is saying she acted in self-defense. Pazmino's lawyer Elsie Chandler told a Manhattan Criminal Court judge that Pazmino stabbed Jarrett because he "tried to take out her eyes with his nails and fingers," pointing out a mark near Pazmino's right eye. 
Pazmino's lawyer called the incident "unfortunate" and said that "people lose their tempers" around Christmastime. She also said Pazmino lives in a shelter for women with mental illness. 
Jarrett did not respond to Mic's request for comment.