5 ways your bank account can get hacked — and how to protect yourself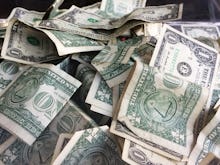 Online banking makes life a lot more convenient, but it also opens your finances up for hacks. With 71% of U.S. adults banking online, it's important to take active steps to protect yourself from hacks and data breaches. Below are five online banking mistakes you're making, along with ways you can reduce the risk of your bank account getting hacked.
Having a weak password
A weak password leaves your online bank account extra vulnerable. Once a hacker cracks your passcode, they have full access to make changes to your account and drain it dry. Having a strong password — whether it be for a banking account, an email or a social media account — is essential. Opt for a unique password that is long, random and made up of different cases, numbers, letters and symbols.
Not utilizing two-factor authentication
Two-factor authentication reduces the risk of fraud, hacking and identity theft by requiring a person to type in a code texted to their smartphone to verify a user's identity. If your bank offers two-factor authentication (or multi-factor authentication) then utilizing it can keep your finances safer. Simply put, hacking an account with two-factor authentication is much more difficult since it would require the hacker to hack both the account and the individual's smartphone.
Using an unknown internet connection
Performing financial transactions over public Wi-Fi is a risky move since public internet connections are unregulated and can spread malware. Ideally, bank transactions should be done over a virtual private network, or VPN, which adds an extra layer of security to private and public networks so that sensitive data is protected. For those who end up banking without a VPN, opt for encrypted pages by looking for the "https" in the URL address in a browser. And for those using their mobile devices, PCMag recommended turning off your Wi-Fi and using your cellular data plan.
Trusting suspicious emails
Sophisticated hackers can email a consumer pretending to be their bank or another official website. Be aware of suspicious emails like email promotions that sound too good to be true, NerdWallet reported. One way to be alert is to check the sender's email ID to see if anything is off — often the email ID will reveal that it has been sent from an unofficial or copycat account. And you receive a suspicious email asking for sensitive information or for you to click a link, it's best to call your bank before clicking links or disclosing information. Source a helpline phone number from an old bill or the official website and describe the email to a representative to verify if an email was sent or if it's counterfeit. If it's the latter, then the bank will likely request the email to be forwarded to their security team.
Failing to check your accounts
It is important to be diligent in checking your accounts. Whether it's a credit card account or a savings account, checking regularly will make it easy for your to see if there are any suspicious transactions.